4 Provisions in the Government Spending Deal and Where They Came From
The riders show the give-and-take that went into cutting the deal to keep the government open.
by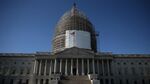 It takes a lot to avoid shutting down the government. Specifically, it takes potato endorsements, relaxed trucking regulations, and bans on funding for both official portraits and legal weed. 
Congress is expected to pass a $1.1 trillion spending plan this week to keep the government open. The plan includes a list of riders, each one an illustration of some of the give-and-take that goes into the legislative process.  Here are some of the stranger provisions  and the lawmakers behind them: 
Potatoes
The spending plan includes a provision lifting a ban on white potatoes from the Women, Infants and Children program. The tubers were removed from the WIC food program in 2009 and were the only fruit or vegetable excluded, per recommendations from the 2005 Dietary Guidelines for Americans. 
Susan Collins, a Republican senator from Maine, and Mark Pryor, the outgoing Democratic senator from Arkansas, were behind the agreement, according to a press release on Collins' website from when she requested the provision. According to the National Potato Council, Maine is the ninth-largest potato producing state in the country. A press release from Collins's office points out that the 2010 Dietary Guidelines for Americans recommends between five and six cups of vegetables that included potatoes a week for women, an increase from 2005.  
Truckers
Collins was also behind a provision that removes a requirement that truckers rest between 1 a.m. and  5 a.m. on two consecutive days before starting a work week.  Critics alleged that Collins favored the trucking industry over safety; her office released letters from police and safety associations asserting that the requirement would push trucking more into peak traffic hours, raising more safety concerns. 
Portraits
The plan bans taxpayer funding for official oil paintings of employees of the Executive Branch, lawmakers and heads of agencies, which cost thousands of dollars. Bill Cassidy, the Louisiana Republican representative who just unseated Democratic Senator Mary Landrieu, had introduced a bill earlier this year seeking to eliminate the paintings.
Pot
The plan also bans funding to the District of Columbia that would go toward the legalization of marijuana, which D.C. residents voted to approve in November. Representative Andy Harris of Maryland wrote the rider, according to the Washington Post. Harris cited concern that legalization would lead to increased use among teenagers. 
CORRECTION: An earlier version of this story misstated a provision of the 2010 Dietary Guidelines for Americans.
(Corrects a provision of the 2010 Dietary Guidelines for Americans in the fourth paragraph.)
Before it's here, it's on the Bloomberg Terminal.
LEARN MORE