Chairman of Republican Party Wants to Extend Reign
The Republican National Committee chairman says he's on track for a third term.
by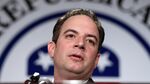 There's one more Republican winner from the November elections: party Chairman Reince Priebus. After winning back the Senate and flipping enough state legislative chambers to control about two-thirds of the states, Priebus is feeling pretty confident.
The Wisconsinite took over the Republican National Committee after the 2010 midterm elections and now plans to seek a third term–putting him on track to be the longest-serving chairman in the organization's history. He told RNC members in an email on Monday that 150 of the 168 party officials and political activists who make up the national organization have pledged to support him. "With such support it is impossible for me to say no," Priebus wrote, according to CNN, which obtained a copy of the email. 
The RNC was especially red–and not in a good way–when Priebus began his tenure. It was some $25 million in debt and reeling from the controversial chairmanship of Michael Steele, who spent money on chartered jets, a meeting at a bondage club, and a lavish office renovation, among other bad ideas.
RNC members will vote Priebus up or down at the party's winter meeting next month near San Diego.  One thing's for certain: The historic success of Republican candidates last month won't hurt.  Here's a tweet from Representative Bill Cassidy, who secured the GOP's ninth Senate seat pickup last weekend with a runoff victory over Louisiana Senator Mary Landrieu:
Before it's here, it's on the Bloomberg Terminal.
LEARN MORE