Gruber Faces Capitol Hill Circus, Issa's Wrath: 'Are You Stupid?'
Republicans are excited for the Obamacare architect's return to the spotlight.
by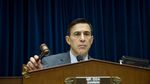 Jonathan Gruber, the Obamacare architect turned "stupidity of American voters" pariah, finally showed his face in public again on Tuesday to testify before the House Oversight Committee.
The hearing, "Examining Obamacare Transparency Failures," was also set to focus on the Department of Health and Human Services inflating the number of Obamacare enrollments with 380,000 dental plans. But the more dramatic offering was Gruber and the series of damning videos featuring him saying things like a "lack of transparency is a huge political advantage" in reference to the president's signature health-care law.
He came prepared with a mea culpa. From his prepared remarks, posted to the committee's website:
"In excerpts of these videos I am shown making a series of glib, thoughtless, and sometimes downright insulting comments. I apologized for the first of these videos earlier. But the ongoing attention paid to these videos has made me realize that a fuller accounting is necessary. ...

"I would like to begin by apologizing sincerely for the offending comments that I made. In some cases I made uninformed and glib comments about the political process behind health care reform. I am not an expert on politics and my tone implied that I was, which is wrong. In other cases I simply made insulting and mean comments that are totally uncalled for in any situation. I sincerely apologize both for conjecturing with a tone of expertise and for doing so in such a disparaging fashion. It is never appropriate to try to make oneself seem more important or smarter by demeaning others. I know better. I knew better. I am embarrassed, and I am sorry. 

"In addition to apologizing for my unacceptable remarks, I would like to clarify some misconceptions about the content and context of my comments. Let me be very clear: I do not think that the Affordable Care Act was passed in a non-transparent fashion. ...

"I behaved badly, and I will have to live with that, but my own inexcusable arrogance is not a flaw in the Affordable Care Act."
Republicans say Gruber's comments prove that the Obama administration deceived Congress and the American people when it pushed through the law, which, as Gruber said, was written in a "tortured way" to hide its less politically desirable results. Democrats, including the president, have distanced themselves from him.
Representative Darrell Issa, the chairman of the Oversight Committee, said Gruber's comments call into question his "analytics"—and greeted him Tuesday with a blunt question: "Are you stupid?"
"I don't think so, no," Gruber said.
The hearing gives the GOP-controlled committee a chance to play up their outrage, and some Republicans could hardly contain their excitement. The theatrics were set to start outside, where members of the Tea Party Patriots planned to meet Gruber with "I'm With Stupid" t-shirts.
"With all that's going on in the Capitol, we didn't want Mr. Gruber's curtain call to go unnoticed," Jenny Beth Martin, Tea Party Patriots co-founder, told the Washington Times. Martin added that they have a dozen extras for Gruber to give to his "economically unsophisticated" friends. 
The administration anticipated the spectacle and wanted no part in it. HHS asked the committee that Centers for Medicare and Medicaid Services Administrator Marilyn Tavenner not be seated with Gruber, Politico reported. That didn't work out:
But Tavenner might have Gruber to thank for taking the heat off the government's own transparency issues. As Bloomberg News reported last month, the House Oversight Committee discovered that the administration's Obamacare enrollment numbers were inflated with 380,000 dental plan enrollments. Or, as Issa put it at the time, it "engaged in a concerted effort to obscure a heavy drop-out rate of perhaps a million or more enrollees by quietly adding in dental plan sign-ups to exchange numbers."
Tavenner was expected to testify on how the inclusion of the dental plans happened.
Before it's here, it's on the Bloomberg Terminal.
LEARN MORE