Obama Says Racism Won't 'Be Solved Overnight,' and George W. Bush Agrees
Two presidents weigh in on race relations in America.
by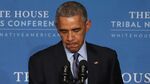 Two words sum up President Obama's advice about mending the distrust between black communities and law enforcement: Patience and persistence.
In a television interview with BET News, his first one-on-one interview since nationwide protests followed a grand jury decision not to indict the New York police officer who killed Eric Garner, Obama said the racial tension will not be "solved overnight," and he urged Americans to remember the progress that has been made.
"This is something that is deeply rooted in our society, it's deeply rooted in our history," he said in a preview of the interview with BET's Jeff Johnson. The full interview will be broadcast on the network Monday evening. 
"Typically, when you're dealing with something as deeply rooted as racism or bias in any society, you have to have vigilance," Obama added, "but you have to recognize that it's going to take some time and you just have to be steady so that you don't give up when we don't get all the way there."
The remarks come amid some criticism that Obama could do more to address the outrage and unrest sparked by recent grand jury decisions not to indict white police officers who killed unarmed black men in Ferguson, Mo., and Staten Island, N.Y.
Around the country, demonstrations continued into late Saturday evening, with tension boiling over in Northern California, where things turned violent as protesters again clashed with police. Civil rights leaders are calling for a march against police violence on Dec. 13 in Washington.
In recent press conferences and speeches, President Obama has tried to walk a delicate line between not vilifying law enforcement and stating "unfortunately, we're seeing too many instances where people do not have confidence that people are being treated fairly." Attorney General Eric Holder has announced federal investigations into the deaths of Michael Brown in Missouri and Eric Garner in New York; the White House is also assembling a task force to examine fractured relations between law enforcement and minority communities.
"It's important to recognize, as painful as these incidents are, we can't equate what is happening now to what was happening 50 years ago," Obama told BET. "And if you talk to your parents, grandparents, uncles, they'll tell you that things are better. Not good, in some cases, but better."
Still, a new national poll released by Bloomberg Politics on Sunday shows that a majority of Americans think that race relations have gotten worse during Obama's presidency. In the national survey, 53 percent of people said that discord between the white and black communities has grown since the nation's first African American president took office.
But one person who previously held the job is sympathetic.
In an interview that aired on CNN's State of the Union on Sunday, former president George W. Bush said while his successor has an opportunity to unite the country, it would not be an easy task for anyone in Obama's position.
"It'd be tough," Bush said. "It'd be tough for an Anglo president, white president, Latino president or black president. When this kind of thing goes on in our country, yeah, it's a hard—it's hard to get the emotion settled down to a point where people say, 'Let's solve problems such as these.'"
Calling the video of Eric Garner's death "very disturbing" and the grand jury's decision not to indict "hard to understand," Bush said he talked about the issue with his former secretary of state, Condoleezza Rice, over dinner recently.
"She said you just have to understand that there are a lot of, you know, black folks around that are just incredibly more and more distrusting of law enforcement, which is a shame because law enforcement's job is to protect everybody," Bush said, later adding, "And as Condi mentioned, and I agree, there's been tremendous progress made based on race, but I think these incidents show there needs to be more."
Before it's here, it's on the Bloomberg Terminal.
LEARN MORE