Cassidy Defeats Landrieu in Louisiana Senate Runoff, Expanding Republicans' Majority
Republicans cap a triumphant midterm cycle by ending Democrat Mary Landrieu's 18-year run in the Senate.
by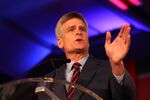 Republican Bill Cassidy, a Louisiana physician and six-year member of the House of Representatives, won the final Senate race of the year on Saturday, keeping Democratic Senator Mary Landrieu from a fourth term and adding to his party's new majority.
With 49 percent of precincts reporting, Cassidy won 59 percent of the vote to Landrieu's 41 percent, according to the Associated Press. His victory means Republicans will have 54 seats when the Senate reconvenes in January, compared to 46 for Democrats and the independents who caucus with them.
Republicans' victories in the Nov. 4 elections had already assured their control of both chambers of Congress for the first time in eight years—and for the final two years of Barack Obama's presidency. Under Louisiana election rules, Cassidy and Landrieu were forced into a runoff election last month when neither won a majority of votes.
Cassidy campaigned as a staunch critic of Obama as he and his allies tied Landrieu to the unpopular administration. Cassidy had led in the polls since Nov. 4, and groups that had backed Landrieu started contributing to him instead. 
Landrieu's loss removes the last white Democratic senator from the deep South and marks the end of a century-plus of Democratic power in the state. It's also a defeat for her family's political dynasty. Her father was mayor of New Orleans and served as a Cabinet secretary, and her brother, the current mayor, may run for governor.
Before it's here, it's on the Bloomberg Terminal.
LEARN MORE