Obama Pal Eric Whitaker Headed for Federal Court on Monday
He isn't charged with wrongdoing, but prosecutors say he hasn't fully cooperated.
by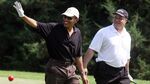 Another one of President Barack Obama's closest personal friends is in a legal mess.
Eric Whitaker is scheduled to testify Monday in a federal courtroom in Springfield, Ill. Federal prosecutors plan to summon the medical executive to question him outside the presence of jurors before a judge decides if he can be called as a hostile witness in a Chicago businessman's fraud trial, both of Chicago's daily newspapers reported Friday.
Whitaker and Obama met when they were studying at Harvard. During Obama's first presidential campaign, they played basketball together often, including on voting days during the long primary campaign against Hillary Clinton. When Obama took the oath of office in January 2009, Whitaker was seated just a few feet away on the main platform, near Jill Biden, the vice president's wife. The two frequently play golf together and Whitaker's family has joined the Obama family on Christmas-season vacations to Hawaii.
He is part of a tightly knit group from Chicago's South Side that provides what Whitaker has called a "cocoon" for the First Family, a place where trusted allies provide a reality check from the strangeness of the White House. Obama hasn't branched out much beyond his original circle of friends, a clique mentality that critics say has actually made him more out-of-touch and an approach that differs from his predecessors, including President Bill Clinton, who surrounded himself with big crowds of friends and Washington's political figures. 

In 2011, Robert "Bobby" Titcomb, another close Obama friend, pleaded no contest on charges of soliciting a prostitute in Hawaii. Obama and Titcomb attended Punahou School in Honolulu during the 1970s and have played golf together in Hawaii and elsewhere during Obama's presidency. Obama's family has also visited Titcomb's beach-side home for barbecues during vacations, and the Obamas have remained his friend despite his troubles.
Whitaker isn't charged with wrongdoing, but prosecutors say he hasn't fully cooperated. They've also alleged he has refused to answer questions "concerning his personal relationship" with a former chief of staff, the Chicago Tribune reported. U.S. District Judge Richard Mills ruled this week that prosecutors made a strong case to treat Whitaker as a hostile prosecution witness, although a final ruling on that question hasn't yet been made.
A cell phone belonging to Whitaker wasn't answered on Friday and it wasn't accepting messages. "Dr. Whitaker is not a party to this case, but he has been cooperative," Whitaker spokeswoman Marj Halperin said in a statement. "If called as a witness, he'll answer questions truthfully. Because of this potential of serving as a witness, it would be inappropriate to share any further details through the media." 
Whitaker could be called to testify in the trial of Leon Dingle Jr. and his wife, Karin Dingle. The couple is accused of stealing more than $3 million in state grants obtained from the Illinois Department of Public Health, according to the Chicago Sun-Times. Whitaker ran the department from 2003 to 2007 after being appointed to the post by former Governor Rod Blagojevich, who was convicted on corruption charges and is serving a federal prison sentence.
During the time he served in the state post, Whitaker oversaw the awarding of about $4 million in health-related grants and contracts to Dingle, who also got another $7 million in taxpayer cash from Whitaker's successor, the Sun-Times said. Mills noted in his ruling that Whitaker has stopped answering prosecutors' questions despite making a deal with them to cooperate, the Sun-Times reported. The judge also agreed with prosecutors that there's "significant evidence" Whitaker has ties to Dingle, who prosecutors say donated $25,000 in grant money to a medical scholarship fund that honored Whitaker.
Whitaker left the state post in late 2007 to join Michelle Obama at the University of Chicago Medical Center where she was vice president of community and external relations and a central figure in the institution's Urban Health Initiative, which directed low-income residents to neighborhood clinics where they could get more timely and affordable care. Whitaker took over the program after Michelle Obama, and Quinshaunta Golden became his chief of staff in early 2008. She has pleaded guilty to bribery, theft and obstruction of justice, the Tribune reported.
Before it's here, it's on the Bloomberg Terminal.
LEARN MORE