Today's Front Pages: The New York Daily News Can't Breathe
How New York media covered the Eric Garner grand jury decision and aftermath.
by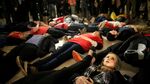 New York City's dueling tabloids had very different front pages on Thursday covering a grand jury's decision not to indict a white police officer in the death of black Staten Island man Eric Garner.
The Daily News headline was "I can't breathe!", referring to Garner's last words as captured in a video of police putting him in a chokehold in July. Protesters also used the phrase Wednesday night. The cover refers to Daniel Palanteo, the officer cleared by the grand jury, as "choke cop."
 Meanwhile, the New York Post went with a more ambiguous headline: "It Was Not a Crime." 
"Ever wondered just what the difference is between the @nypost and @NYDailyNews? Look no further than today's woods," tweeted BuzzFeed's Tom Namako.
The headline from the politically conservative tabloid, along with the screenshots of the video of Garner's death, left the cover up to the reader's interpretation: Was the grand jury's decision something to protest or something to celebrate?
For context, here was the Post cover on Aug. 23, the day before the funeral for Michael Brown, the black teenager fatally shot by a white officer in Ferguson, Mo., in August.
The New York Times and Wall Street Journal both led with images from the actual protests. The Times used one from the Grand Central Terminal "die-in"...
...and the Journal led with a scene from the protest in Times Square.  
Before it's here, it's on the Bloomberg Terminal.
LEARN MORE