Former Farm Chief Takes Cake as Washington's Funniest 'Celebrity'
by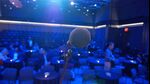 Performing at NPR's headquarters Wednesday night, former Secretary of Agriculture Dan Glickman won the 20th Annual Funniest Celebrity in Washington contest.
In his nine-minute stand-up comedy set, Glickman recounted his whereabouts during President Bill Clinton's 1997 State of the Union address. As the so-called designated survivor, he was escorted away from his colleagues at the U.S. Capitol by the Secret Service.

"I was with the doctor, and I had the nuclear codes with me, and we landed at LaGuardia. And I had a five-car motorcade, and we went to my daughter's apartment" in New York City, Glickman said, holding but not looking at his notecards.
"Nobody in the entire building spoke English—they were all undocumented, I would say. So we go up there, and the people are crazed. They think it's an immigration raid. It's just me. I'm trying to get away from nuclear attacks!"
Ten pundits competed during the two-hour event, where tickets ranged from $35 to $200. Jamie Weinstein, senior editor at the Daily Caller, earned the runner-up trophy after lampooning the celebrity roster.
"We're not talking the D list here," Weinstein said. "We're talking the Z list. Here's how low a bar it is. Not a single one of the 'celebrities' here on stage tonight would get a callback from 'I'm a Celebrity, Get Me Out of Here,' which is universally considered the lowest reality celebrity TV show ever made."

Americans for Tax Reform President Grover Norquist, who won in 2013 and placed third Tuesday joked about his latest invention: "It's a disposable end table. I'm gonna market it under the name 'The One Night Stand.'"
Pulitzer Prize-winning columnist Clarence Page, 67, quipped, "I'm so old, I get nervous when I see somebody walk toward me with a bouquet of flowers." Page earned an honorable mention from the judges.
Previous years' winners include former Governor Mike Huckabee, Senator Joseph Lieberman, media executive Arianna Huffington, MSNBC host Chris Matthews and economist Austan Goolsbee.
Before it's here, it's on the Bloomberg Terminal.
LEARN MORE