Clinton Jumps Into Race Debate, Says Americans Must Face 'Hard Truths'
The former secretary of state took a bolder stance following the second grand jury decision not to indict a white police officer who killed an unarmed black man.
by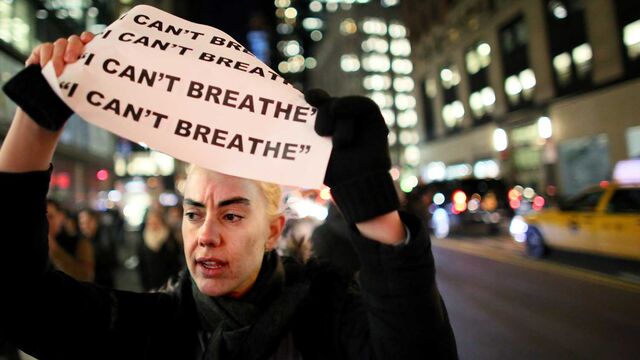 Hillary Clinton took a side in the race debate churning nationally on Thursday, decrying the criminal justice system as "out of balance" and imploring Americans to "grapple with some hard truths about race." 
Unlike the measured comments she made in August about the unrest in Ferguson, Mo., Clinton this time delivered a bold response to the death of an unarmed black man by police in New York City and the protests that have followed a grand jury's decision not to indict the officer who administered the deadly chokehold. She noted the anger in communities across the country, saying that "a lot of hearts are breaking" as Americans are "asking ourselves, aren't these our sons?" 
"These tragedies did not happen in some far away place," said Clinton, who spoke in Boston. "They didn't happen to some other people. These are our streets, our children, our fellow Americans and our grief."
In remarks that echoed the tenor of a campaign rally, the potential 2016 presidential candidate endorsed President Barack Obama's creation of a task force to examine police practices and re-examine of the use of military-grade weapons by local forces. "Let's make sure that federal funds to state and local law enforcement are used to bolster best practices rather than buy weapons of war that have no place on our streets," Clinton said as the audience applauded. 
Clinton spent several minutes discussing the protests popping up in urban areas from Atlanta to St. Louis at the start of a speech at the Massachusetts Conference for Women. The former secretary of state then delivered her more standard address detailing the issues facing working women. The remarks were her first since grand juries ruled against indicting police officers in New York and Ferguson and followed an hour-long, Oval Office meeting with Obama on Wednesday. Neither White House officials nor Clinton's spokesman would detail what the two politicians discussed.
Her comments on the ruling in New York—the state she represented as a U.S. senator—came much more quickly than her response to the events in Ferguson. Clinton waited nearly three weeks after the death of Michael Brown, the 18-year-old victim of a police shooting, to comment on the riots in that state. Many outraged by the incident, including the Rev. Al Sharpton, had repeatedly called on her to speak out about his death. "Behind the dramatic, terrible pictures on television are deep challenges that will be with them and with us long after the cameras move on," Clinton said in August, when she finally voiced her views during a paid speech at a technology conference in San Francisco. "This is what happens when the bonds of trust and respect that hold any community together fray. Nobody wants to see our streets look like a war zone, not in America. We are better than that." 
Steve Yaccino contributed to this report.
Before it's here, it's on the Bloomberg Terminal.
LEARN MORE