What Rand Paul Talks About When He Talks About Declaring War on the Islamic State
Congress hasn't declared war since World War II.
by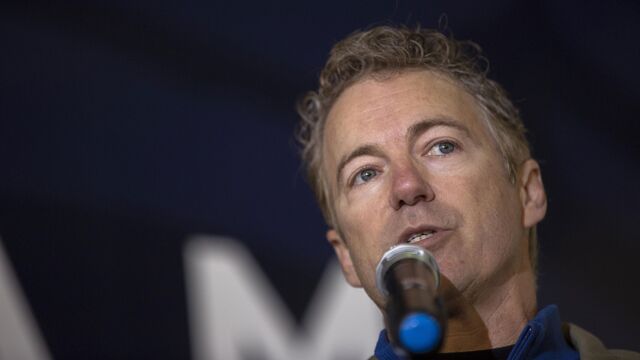 U.S. Senator Rand Paul once proposed cutting all foreign aid from the federal budget. Then he penned an column titled, "I Am Not An Isolationist." Now, he's introduced a declaration of war on a group the United States has already been bombing for months.
Paul's resolution, introduced Wednesday, would declare war on the Islamic State, which has already been the target of more than 1,120 air strikes in Iraq and Syria that dropped 2,770 munitions since missions started Aug. 8. But Paul, a Kentucky Republican considering a presidential campaign in 2016, voted against arming and training fighters in Syria and has claimed that the military action underway is illegal.
"I believe the president must come to Congress to begin a war and that Congress has a duty to act," Paul said in a statement. "Right now, this war is illegal until Congress acts pursuant to the Constitution and authorizes it."
Paul's foreign policy positions have put him at odds with many Republicans in Congress, while appealing to a libertarian base. In an Oct. 24 speech, Paul described his views on foreign policy as "conservative realism," adding that U.S. military drones  that "inadvertently kill civilians may create more jihadists than we eliminate." 
Peace groups aren't buying it. "I understand what he's trying to do—reclaim the power to declare war from the executive and limit the scope of a conflict that's already ongoing—but this strategy is likely to backfire and simply open the door to a wider war," Justin Raimondo, the libertarian editorial director of Antiwar.com, told U.S. News & World Report after Paul released a draft of the resolution last week.
Paul's proposal would limit the war to one year and allow for ground troops to be used in protection or rescue missions, for limited operations against high value targets, or for advisory and intelligence gathering operations. It would also repeal a 2002 authorization for military force, which the Obama administration has used to justify current air strikes. After insisting for months that he has all the executive power he needs to launch the airstrikes already under way against the radical Sunni group, Obama reversed course and called for a new authorization for the use of military force a day after his party lost control of the Senate. 
White House spokesman Josh Earnest declined to comment on Paul's resolution on Wednesday, adding that the president is interested in "refining the existing authorization to use military force so that it can be right-sized and modernized to focus on the threats that we face right now." 
Senator James Inhofe of Oklahoma, the top Republican on the Armed Services Committee, has introduced a resolution that would go beyond Paul's, allowing the president "to use all necessary and appropriate force" to defend the country against ISIS. Senator Tim Kaine, a Virginia Democrat also on the Armed Services, was one of the first lawmakers to seek a new authorization, unveiling a measure in September that would authorize airstrikes while prohibiting the deployment of ground troops and limiting the operation to a year.
Before it's here, it's on the Bloomberg Terminal.
LEARN MORE