Landrieu Warns Louisiana Not to Let 'Windmills and Alternative Energy' Supporter Rise in Energy Committee
Senator Maria Cantwell sends a fundraising email for Landrieu as Landrieu (gently) warns about her.
by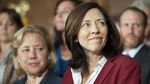 NEW ROADS, La.—As she barnstorms across Louisiana in advance of Saturday's runoff, Democratic Senator Mary Landrieu tells voters not to confuse this election with a referendum on President Barack Obama. She tells rollicking stories about her work to fund an air tower here, a bridge there, a Keystone XL pipeline right over there. At an appearance in this mostly black town north and west of Baton Rouge, Landrieu talked about her fight to stop a "Boston hedge fund" from exploiting a community's "cheap natural gas" and force residents to resort to propane for fuel. This, she said, was a reason she needed to return to Washington as ranking member of the Senate Energy Committee.
"If I don't get back there as a senior member of the committee," said Landrieu, "we're gonna have a woman who I like very much, [but] I'm not sure Louisiana's going to think very much of a senator from Washington state who's all for windmills and alternative energy, and doesn't support the oil and gas industry! That's who's gonna take my place as head of this committee."
She was talking about Washington Senator Maria Cantwell, a third-term Democrat from a far less conservative state. At 9:39 Pacific time—minutes after Landrieu said this—subscribers to Cantwell's donor list got an e-mail asking them to help out a friend.
Your calendar might say Election Day passed a month ago, but Mary Landrieu is still fighting for a critical seat in the Senate.

In just three days, Mary will be facing off against her GOP opponent in a tight runoff election. He may have the Koch brothers and shadowy right-wing groups on his side, but Mary's got us.
Landrieu's actually been citing her support from fellow senators when she's asked about the Democratic Senatorial Campaign Committee and other national groups bailing on her race. When I sat down with the senator, I asked about the Cantwell remarks and if she was saying that the Democrats were in danger of veering away from her favored energy policy.
"That issue means very little to me right now," said Landrieu. "I mention that to try to focus people's attention on how even though the national election put Republicans in charge, there is still significant value in having the ranking member of the Energy Committee from Louisiana, as opposed to Washington state."
Before it's here, it's on the Bloomberg Terminal.
LEARN MORE