Ashton Carter Actually Outlined His Plans for the Pentagon in an Essay One Year Ago
The likely new secretary of defense has laid out some of the issues plaguing the Pentagon and how they can be fixed.
by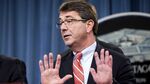 Now that Ashton Carter is expected to take over the Pentagon, the next logical question is: what does he want to do with it? Luckily, he's done a bit of thinking about this, and published a long essay on the subject in Foreign Affairs.
Here are the big takeaways from his piece: 
1. The budget process hurts troops in war zones
When the wars in Iraq and Afghanistan first began, Congress quickly recognized the unique challenges they posed, but 1 What the WHUT? they were reluctant to approve funding for things like countermeasures to protect from improvised explosive devices because they thought the wars would be short. Even as that proved untrue, it took years to get things like protective undergarments and protective vehicles, two improvements that greatly reduced injuries to troops. Eventually, some mechanisms were put in place to fast-track funding for specific needs, and those mechanisms need to be re-approved in 2015. Carter argues that the Pentagon needs some discretionary funding in order to best equip soldiers. 
Of course, the Pentagon cannot acquire any equipment or technology without adequate funding. And the current budget process simply does not allow for the development and deployment of solutions to urgent problems on the battlefield. The Department of Defense has developed several mechanisms for addressing such needs, and it must keep all of them in place.
2. The Pentagon needs more R&D
Carter argues that some resources need to go toward innovation in anticipation of future problems. As opposed to figuring out how to solve a problem when it arises, the Pentagon should have new technology ready to go. 
... the Pentagon must always have a watchful eye on the horizon, anticipating needs and gaps in capabilities before they become dire. These findings should drive rapid research and development, particularly experimentation with new or improved technologies and the building of prototypes. Investing in science and technology early on ensures that the Pentagon will have something on the shelf when it needs it, so that it does not have to start from scratch when it is too late.
3. The Pentagon forgets what it learns in war
Carter argues that the Pentagon cannot go back to business as usual once the war ends. It instead needs to make those stopgap measures from the wars into permanent new vehicles for funding for future wars. That could mean keeping in place the existing task forces or creating a new department altogether. The Pentagon is currently pursuing "a hybrid approach," Carter writes. 
By making these structures more permanent, the Pentagon hopes to retain the ability to meet the urgent needs of the troops long after the end of operations in Afghanistan. It is already using the Joint Emergent Operational Needs process to upgrade munitions and targeting systems for operations over water, in order to respond to the potential use of speedboats by Iran to swarm U.S. naval vessels in the Persian Gulf. The military has also developed and built prototypes for improvements to a penetrating bomb that would allow it to target hardened, deeply buried facilities. And last year, the Department of Defense decided to build the Field Deployable Hydrolysis System, a transportable system that can destroy chemical weapons stockpiles wherever they are found. This system was developed as part of the Joint Emergent Operational Needs process months before the United States knew it would be discussing the destruction of Syria's chemical weapons. It is now ready for deployment whenever required—a capability that enabled the U.S. government to include this possibility in its recent UN negotiations.
Before it's here, it's on the Bloomberg Terminal.
LEARN MORE