Rob Portman and the Museum of Presidential Non-Candidates
The men who almost ran for president, then didn't.
by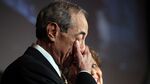 The news, if you want to call it that, broke at midnight. Ohio Senator Rob Portman, elected to his current term after his Democratic opponent imploded, would not run for president in 2016. He'd run again for Senate, instead. "I don't think I can run for president and be an effective senator at the same time," said Portman in a statement.
Portman's boomlet had the approximate size and lifespan of bactrocera oleae. Age 58, well-liked inside Congress, the Bush family, and the press corps, Portman lacked any real constituency in the Republican electorates that choose a nominee. Two weeks ago, in an interview with CNN's dogged Erin McPike, Portman's rationale boiled down to "experience" and a desire "that we in the Republican Party also have strong candidates that can win in a general election." (Early polling, useless as it is, shows most serious Republican candidates polling strongly against Hillary Clinton, the likely Democratic nominee.)
Portman was/is unique in that he favored legal gay marriage—a stance that had the National Organization for Marriage and other social conservative groups threatening to beat him in his Senate race, after just a few other Senate Republicans, including Ron Kirk of Illinois, Lisa Murkowski of Alaska, and Susan Collins of Maine, joined him. In his interview with McPike, he confidently said that "of all the issues out there that pollsters look at, this has changed the most rapidly." That right there should have been a tell about Portman 2016—you're not supposed to defend a position by reminding people that pollsters have signed off.
Still, Portman's month-long flirtation has granted him access in a club even more exclusive than the Delta Lounge at the Atlanta Airport. He has joined the pantheon of men who thought hard about running for president, made "moves" toward a run, then done nothing. This sets them apart from pols like Ted Kennedy or Al Gore, who tried at least once. Among his peers:
Mitch Daniels (2012)
As some Republican donors and pundits fretted about their non-Obama options, and about Mitt Romney in particular, they looked to the governor of Indiana. The Daniels boomlet started to peak with a delightfully pretentious speech at the 2011 Conservative Political Action Conference. "Change of the dimension we need requires a coalition of a dimension no one has recently assembled," said Daniels. This coalition, mused George Will, may be "one assembled after 2012 by someone with his blend of accomplishments, aversion to pandering and low-key charisma of competence." A "Draft Mitch" campaign arose from the campus of Yale.
But Mitch was not to be drafted; the coalition, alas, would never be assembled. In May 2011 he declined to run. Two months later, he released a quasi-campaign book that had no audience, providing a useful test of the value those books have if their authors are not stumping in Iowa.
George Pataki (2008, 2012, 2016)
Millennials might not remember this, but from 1995 to 2007 George Pataki was the surprisingly resilient Republican governor of New York. (No Republican candidate for the office has cracked 41 percent of the vote since Pataki left.) After his decision to retire, the New York media asked whether "the 9/11 governor" could win over terror-conscious Republican primary voters, and Pataki indulged, for a while, until Rudy Giuliani got into the race. In 2012, he toured primary states and bought a Web domain. In 2014, now age 69, he's still sort of talking about a run. Basically, when reporters are left alone with Pataki, they run out of conversation topics, they ask about the White House, and he doesn't say no.
Donald Trump (2000, 2012, 2016)
The real estate mogul/TV star/birth certificate enthusiast has actually been mentioned as a candidate for something-or-other since the 1990s; the only difference between his "races" is how far he gets before bailing. In 2000, he threatened to seek the Reform Party nomination during that brief period before the Ross Perot-created party was ripped apart. In 2011 he made a couple of actual campaign stops, and many, many more media appearances, as a dark horse candidate who just sort of rambled about what was on his mind. (This led to the rare Republican event where the main speaker dropped F-bombs.) This year, he's still showing up at Republican Party events in primary states, and refusing to rule out a run, and exacting revenge against reporters who make fun of him. But no one expects him to disentangle himself from his lucrative media deals, disclose his finances, and actually mount a bid.
Colin Powell (1996)
In the spring of 1995, it looked as though the next presidential race would offer a dreary choice between a failing President Bill Clinton, a tired Bob Dole, and a persistent Ross Perot. Then came Powellmania. A black Iraq War hero, running as a Republican? "I don't see how the Democrats could win," said a Democratic consultant given anonymity (of course) in an Atlantic Monthly article. The former chairman of the Joint Chiefs of Staff was scheduled publish a memoir in September 1995, and the months before that were thick with presidential hype. He ruled out a race, but Citizens for Colin Powell persisted, entering him into straw polls, as public surveys showed him beating Clinton in a head-to-head. 
It took until November 1995 for Powell to rule out a race. He admitted looking into his soul, and seeing that there was "a passion and commitment that, despite my every effort, I do not have for political life."
Mario Cuomo (1988, 1992)
The three-term governor of New York became a sensation inside the party after his stirring address to the 1984 Democratic convention. In the run-up to 1988, when it looked like any strong Democrat could wallop Vice President George H.W. Bush, Cuomo initially forswore a run, but kept getting questions about whether he'd accept a nomination if forced upon him. His inability to rule it out, and the inability of reporters to believe that he'd ruled it out, kept the questions coming.
"I closed the door in 1984 with unprecedented clarity and foresight," he told the New York Times in April 1988, as Mike Dukakis was locking up the Democratic nomination. "I have spent four years placing padlocks on the door. I have never wanted there to be any ambiguity about my position. If all the media said I did something wrong in my communications, I guess I did, although I don't know what it was."
In the run-up to 1991, Cuomo came closer to a run. He famously left a plane on the Albany tarmac, ready to head to New Hampshire, in the days before Christmas. But he balked. "Theoretically, at a point in the future when our gap has been closed and our budget process restored to reasonableness, I could then enter the remaining primaries and still be a contender for the presidency," he told reporters.
A year later, after Bill Clinton won the presidency, Cuomo denied having any regrets about skipping the race. 
"He's better at politics than me," said Cuomo of Clinton, "and I don't mean that in a deprecatory sense."
CORRECTION: An earlier version of this story incorrectly said no Senate Republicans joined Portman in backing gay marriage. At least three did.
(Corrects to say at least three Senate Republicans joined Portman in backing gay marriage.)
Before it's here, it's on the Bloomberg Terminal.
LEARN MORE