Rand Paul Unfazed by Big Legal Obstacle to Running for President
The Kentucky Republican's top strategist outlines a plan to get him on the ballot for Senate and president in 2016 if he chooses.
by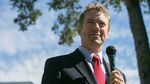 For now, Rand Paul is running for U.S. Senate in 2016. If he decides to run for president, too, his top political aide says he's confident they can navigate a Kentucky law that prohibits someone from running for two offices on the same ballot.
"There are avenues available to him, should he decide to run for both offices at the same time," Doug Stafford, Paul's top political strategist, told reporters on a conference call Tuesday. "I don't think we have abandoned any option, nor have we settled on any option."
The junior senator from Kentucky has repeatedly said he plans to run for re-election in 2016, including while visiting Iowa, where the presidential nomination process will start in early 2016 with that state's caucuses. "In all likelihood, I will be on the ballot for the U.S. Senate in Kentucky, though, and we haven't really looked beyond that," he told reporters in Cedar Rapids in May 2013.
What complicates the situation for Paul is a Kentucky law states that "no candidate's name shall appear on any voting machine or absentee ballot more than once."
One possibility for bypassing the law is to convince state party leaders to shift Kentucky's presidential primary in May 2016 to a caucus in March. That would offer the added benefit of helping him potentially win some home-state delegates during an early phase of a potential nomination race.
Another would be to challenge the law in court and argue the statute is unconstitutional when applied to federal races. "We believe that it cannot apply to federal offices," Stafford said.
Paul's camp has also previously encouraged state lawmakers to change the multiple-office limitation, although that effort has hit a roadblock in the Democratic-controlled House.
Paul will make a decision about a presidential bid in the "early spring" and no decision has been made about whether he would formally announce a candidacy or first go through the "exploratory committee" phase, Stafford said.
For now, Paul is "100 percent running" for the Senate and wants to "keep fighting for Kentucky," Stafford said. If he runs for the White House, Stafford said, Paul would "still perform his duties as senator."
There's plenty of precedent for Paul trying to keep his current job and run for a higher one. In 2012, Wisconsin law allowed Representative Paul Ryan to appear on the ballot as both a candidate for both the vice presidency and the 1st Congressional District. Vice President Joe Biden won re-election to his Senate seat in Delaware in 2008 in the same election that won him his current job one heartbeat away from the presidency.
The Democratic National Committee called Paul "part of the problem in Washington" as it criticized his Senate tenure and prospective 2016 bid.
"His record in the Senate is one of obstruction, self-interest and ideological crusading—not of working within the mainstream to get things done," Michael Czin, a DNC spokesman, said in a statement. "Paul consistently maintains contradictory positions on a host of issues, like civil rights, aid to our allies like Israel and combating the threat of terrorism in the Middle East. Simply put: working Americans can't afford leaders like Rand Paul."
Paul's announcement comes as Senator Rob Portman of Ohio said he will not seek the Republican presidential nomination and instead will focus entirely on his 2016 Senate re-election bid. Portman and Paul are two of the four senators who have been open about their contemplation of presidential runs. The other two are Senator Marco Rubio of Florida and Senator Ted Cruz of Texas.
Before it's here, it's on the Bloomberg Terminal.
LEARN MORE