Obama Immigration Change Isn't Amnesty, DHS Secretary Jeh Johnson Says
Kathleen Miller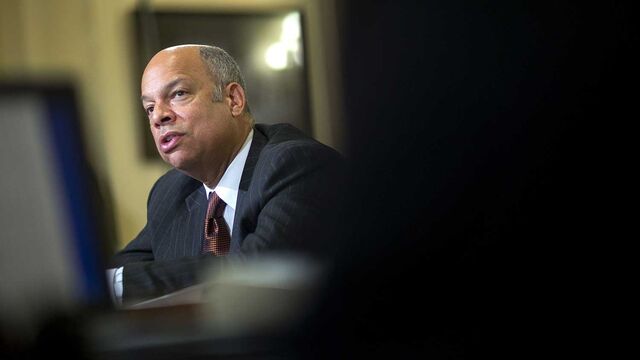 House Republicans criticized President Barack Obama's immigration directive as an illegal power grab today while Homeland Security Secretary Jeh Johnson said the orders were well within the president's authority.
Obama "has said over 20 times that he did not have the authority to take executive action on immigration," said Texas Republican Mike McCaul, chairman of the House Homeland Security Committee. "The president has deliberately and willfully broken the trust" between branches of government, he said.
Obama's Nov. 20 order will defer for three years the deportation of people who came to the U.S. as children and for parents of children who are citizens or legal permanent residents. The plan will be carried out through mandates to cabinet agencies that deal with immigration.
"We want people to be accountable, come out of the shadows, get on the books and pay taxes," Johnson told the committee. "This is not a permanent solution."
House Republicans are considering whether to provide only short-term funding for Johnson's department as an attempt to scale back Obama's initiative.
Homeland Security, which has primary responsibility for immigration policy, would be funded only into March 2015 while other federal agencies would be funded through September 2015. Johnson was making his first appearance before lawmakers after Obama announced the immigration changes.
'Unprecedented' Action
McCaul said the president's action constitutes an "unprecedented executive power grab" that will lead to more illegal immigration. He and Representative Peter King, a New York Republican, suggested the president waited until after the Nov. 4 congressional election to avoid political damage or create complications for Republicans when they control both houses of Congress in January.
"If he cared so much, why didn't he do it before?" King said.
Johnson said the directives are "well within our existing authority." Obama had waited for Congress to act and continues to want lawmakers to enact permanent changes in immigration law.
"We've done a lot of waiting," Johnson said. Obama's action is necessary because undocumented immigrants living in the U.S. should be held accountable for taxes and other responsibilities, he said.
"Congress has not given me the resources to deport 11 million people," Johnson said. "And they are here."
'Pretty Isolated'
White House spokesman Josh Earnest told reporters today that House Republicans "remain pretty isolated from the American public" on immigration.
Under the changes, Johnson's agency will streamline the visa process for foreign workers and their employers and give high-skilled workers more flexible work authorization. It won't expand the number of H1-B visas for higher-skilled workers, as sought by the technology industry.
The largest category of people affected, about 4.1 million, are those who have been in the country more than five years and have children who are U.S. citizens or legal permanent residents. After passing a background check and paying fees, they would get relief from deportation for three years and be able to obtain work permits.
Before it's here, it's on the Bloomberg Terminal.
LEARN MORE