Jeb Bush is Searching His Soul About Whether to Run for President
The former Florida governor said that the incoming Republican majority in Congress needs to demonstrate what it supports, not what it opposes.
by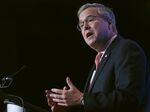 Jeb Bush says he'll make up his mind on a 2016 presidential campaign "in short order" and that his decision will depend on family considerations and whether he has the ability to "lift people's spirits" and avoid getting "sucked into the vortex" of Washington politics.
"Do I have those skills? And I've got to really do a lot of soul-searching to really make that determination," Bush, a former Florida Republican governor, said Monday at the Wall Street Journal's CEO Council in Washington.
"And perhaps more important, can I do it where the sacrifice for my family is tolerable? Every person that runs for office at any level—it's a big sacrifice because it's a pretty ugly business right now," said Bush, a brother of one former president and a son of another. He said he didn't have an "exact timeline" for making a decision.
Bush identified five areas of focus for U.S. policymakers: an "all-in" energy policy; revising regulations to reflect a changing economy; simplifying the tax code in a way that lowers rates while "eliminating as many deductions as possible"; creating an "economically driven" immigration system that prioritizes employers' needs over family reunification; and a "radical transformation" in education that includes higher standards, more parental control and more opportunities for digital learning.
"If we started doing some of those, then we could actually do the other big thing," an overhaul of entitlement programs that "we desperately need as well," Bush said.
Bush opposed President Barack Obama's executive action to stop pursuing deportations for up to 5 million undocumented immigrants.
"These people are still in limbo," Bush said. "What we need to do is to get to some certainly for people, 11 million people that are here, five million of which he dealt with. We need to find some certainly to give them some legal status and move to a system that is more economically driven."
With Republicans controlling both chambers of Congress beginning in January, Bush urged his party's leaders to pass bills and demonstrate they can govern responsibly, seeking to forge comprise with Democrats in Congress without worrying too much about how Obama reacts.
"We have to actually show that we can, in an adult-like way, govern, lead," Bush said. "Whether the president signs up for what Republicans in Congress offer up is up to him."
Bush said that Republicans could promote ideas and policy on issues including energy, net neutrality, an overhaul of patent laws, and health care.
"This should be a time of incredible possibility for Republicans to be able to show what they believe in," he said.
Before it's here, it's on the Bloomberg Terminal.
LEARN MORE