Is Ted Cruz Right About the Entire World Being 'on Fire'? Let's Find Out!
The Texas senator goes en fuego about terra firma.
by and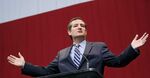 In railing against President Obama's foreign policy on Tuesday, Senator Ted Cruz observed that it is "almost like the whole world is on fire now," adding, "I guess Antarctica is doing okay." 
Is he blowing things way out of proportion? Let's go to the Mercator projection!
Here's the world as Ted Cruz sees it: 

And here's every part of the world that is actually on fire as of the past 24 hours, according to NASA's live-updating data:

Cruz is spot on about Antarctica. It's fire free, just as he said. But the rest of the whole world? Not on fire. Although there are a shocking number of places burning across the globe, especially in South America and Africa. 

Before it's here, it's on the Bloomberg Terminal.
LEARN MORE