House Republicans Call the Vet to Avoid Another Shutdown
Leaders hope Representative Ted Yoho's proposal can pacify a caucus seething over President Barack Obama's immigration actions.
by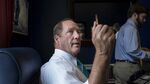 House Speaker John Boehner and his fellow Republican leaders are turning to large-animal veterinarian and Tea Party darling Ted Yoho to help avoid a second government shutdown in as many years.
The freshman Florida Republican has proposed a bill that aims to remove the president's executive power when it comes to deportations. It's a symbolic measure that would have essentially zero chance of passing in the last days of a Democratic-controlled Senate. But Boehner and his crew hope it's enough to pacify a Republican caucus seething over President Barack Obama's immigration actions last month.
House Republicans, in response to Obama's actions, are considering whether to block funding for the government's immigration-related operations, which would lead to at least a partial shutdown. They're meeting Tuesday morning to consider their options.
Boehner and other Republican leaders have vowed to avoid a repeat of the 16-day shutdown last year. Their best shot may be coupling Yoho's bill with a measure that would temporarily fund immigration agencies and provide longer-term financing for the rest of the federal government. The deadline is Dec. 11, when current funding ends.
Yoho, whose opposition to Obamacare contributed to the last shutdown, was an unlikely star of the 2012 election cycle, knocking off 12-term incumbent Cliff Stearns in a Republican primary for a North Florida district after selling his veterinary practice to run. Since being sworn in, the 59-year-old Republican has voted against Boehner for speaker, said an Obamacare tax on indoor tanning was "racist," and suggested that a government shutdown could stabilize markets.
Yoho said in a statement that Obama's immigration action was unconstitutional and establishes a "very dangerous precedent." 
"I, along with the American people, want to fix our broken immigration system," Yoho said. "But this fix must come from well thought-out legislation that puts the needs of the country first."
Obama said Nov. 20 that he would temporarily halt deportations for about 5 million undocumented immigrants in the country, mostly those who were brought to the country as children and parents of legal residents. The action also streamlined the visa process for foreign workers and their employers.
Bloomberg News' Erik Wasson contributed to this report.
Before it's here, it's on the Bloomberg Terminal.
LEARN MORE