Double-Dipping, Dog Whistles, and Obamacare: The Last Senate Debate of 2014
Senator Mary Landrieu and Representative Bill Cassidy met Monday for one final debate before their runoff election.
by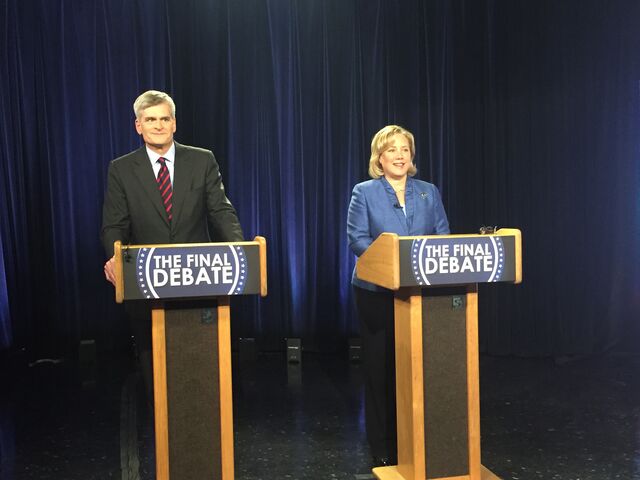 It had been more than a month since any candidate for Louisiana's U.S. Senate seat walked onto a debate stage. A runoff had removed Tea Party candidate Rob Maness and some fringe contenders from the race so that Democratic Senator Mary Landrieu had a clean race against Republican Representative Bill Cassidy all month. And it had seemed to get away from her, first when 41 senators blocked her Keystone XL pipeline bill, then when early votes seemed to be breaking for the Republican.
On Tuesday night, Landrieu had one message: Bill Cassidy was unfit to be a senator, had lied to voters about his side gig as a doctor in the LSU system, and had probably padded his salary by being paid for work that supposedly occurred on days when he was in D.C. It was an answer, finally, to attacks that had wounded her badly—on plane travel she'd initially failed to reimburse the costs of, and of the $2.5 million home she owned in Washington. Now, she had something to hit Cassidy with.
"He padded his own salary, at taxpayer expense," said Landrieu near the debate's end. "If he gets elected, which I doubt, he will be fighting subpoenas."
Cassidy smiled right through it. I say that literally: Rarely have two candidates exposed so much of their gums to TV cameras. It was not as if they could stand each other. Before the debate began, reporters were ushered in for photos, and the political foes hardly interacted. Cassidy issued a "Hey, Senator!" and went in for a handshake, and then asked if the debate would be on C-Span. When he was told that it would play only on C-Span 2, he laughed. "Sort of like ESPN-2!" He smiled, as Landrieu shuffled through notes. Yet when the debate began, Landrieu and Cassidy both grinned widely whenever the other one was talking, as if to avoid any physical evidence of an attack sinking in.
Yet, again and again, it was clear why any Republican would have an advantage over a Democrat in modern Louisiana. When the candidates got a question about gun control, Landrieu explained what was in the Manchin-Toomey gun safety amendment that she'd voted for in 2013.
"Yeah, I have an A+ NRA rating," said Cassidy. "Senator Landrieu has a D."
"Just because you disagree with the president does not mean you are a racist," said Cassidy.
Twice, Cassidy reminded the TV audience that when it came to Keystone XL, he "was able to get the Cassidy bill through the House" while Landrieu's bill was choked by a filibuster. Multiple times, he said that Landrieu, "voted for $1.6 trillion in taxes, voting with Barack Obama 97 percent of the time."
Landrieu pushed back by accusing Cassidy of patronizing voters. "I'm not the only one tired of listening to his rhetoric," she said. He was turning every issue back into an attack on Obama and his eponymous -Care.
"The congressman misleads everyone when he says this is a government-run system," said Landrieu. "It is a public sector, private-sector partnership."
"It is a policy that if you don't take, you're gonna be fine," offered Cassidy. "The government is going to tell you what you have, what you have to take, and if you don't, one percent of your income will be fined."
That did not entirely hang together, but it would not have benefited Landrieu to dig in. Cassidy did everything he could to shut down the "double-dipping" charge, insisting that he was being attacked for providing health care. "Twenty-five years, I've been volunteering in a hospital for the uninsured." And by the way, wasn't Obamacare awful? When given the chance to pose a question, he pressed Landrieu, three times, on whether she would have voted for the Affordable Care Act had she realized what consultant Jonathan Gruber said about American voters. (#Grubergate was the one "new" issue that had popped up between the election and the runoff. The Ebola crisis, which had faded in recent weeks, was not mentioned at all.)
"I don't read what Jonathan Gruber says," said Landrieu. "I don't even talk to Jonathan Gruber. I talk to my constituents."
There was virtually no issue about which Landrieu could stick to main-line Democratic positioning and be sure she was on the winning side. That became clearer in her closing statement, when Landrieu made a comment about Cassidy that few Democrats in red states had echoed.
"He has been very disrespectful to the president and to the office of the president," said Landrieu. "We need someone that will respect all views."
That rhymed with what Democrats had been saying in ads aimed at black voters, that a Republican Congress would continue hate and disrespect toward the first black president. Landrieu, who won 94 percent of the black vote in the election's first round, needed that base to come out in a way that it hadn't in the early polling days. Cassidy, as usual, could just coast.
Before it's here, it's on the Bloomberg Terminal.
LEARN MORE