The Tea Party's Role in Louisiana's 'Jungle Primary'
How fear of conservative challengers helped lead to four extra weeks on the trail.
by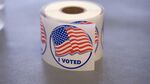 In perhaps more ways than one, the two candidates finally heading toward the finish line of in the U.S. Senate race in Louisiana have the Tea Party to thank for the extra month of campaigning.
There was, of course, Rob Maness, the Sarah-Palin-supported Republican whose presence in the race this year was a key factor in forcing Democratic incumbent Mary Landrieu and Republican Congressman Bill Cassidy into a December run-off that will be decided on Saturday.  (In November, Landrieu got 42 percent of the vote, Cassidy got 40 percent, and Maness took third with 14 percent).
But long before GOP leaders tried everything they could to convince Maness to step aside, the structure of Louisiana's so-called "jungle primary" system had already been shaped years ago by establishment fears of a Tea Party threat.
Like most good stories about Louisiana politics, this one starts with Edwin Edwards, the state's former governor. 
"I was in a grueling Democratic primary and spent a great deal of money and a year of my time to be the Democratic nominee, just to face a Republican who was nominated in a phone booth," the famously pithy Edwards said in an telephone interview this fall about his 1971 campaign.
Edwards, too, is competing in a run-off election for a congressional seat on Saturday, despite his age (87) and past legal troubles (he spent eight years in prison on a corruption conviction). 
In the mid-1970s, one of his goals as a first-term governor was to convince state lawmakers to limit the cost and headache of typical primary elections by creating one "jungle" primary, cramming candidates from all parties onto one ballot in October. If a candidate received a plurality of support in that first election, a November runoff between the top two vote getters was deemed unnecessary. 
It worked. For the next two decades, Louisiana sent 80 percent of its members of Congress to Washington a month before their peers from other states. But in 1997, the U.S. Supreme Court ruled that early elections conflicted with federal law, forcing Louisiana to shift its jungle primary back a month to November. A runoff would have to follow in December.
This setup has been debated ever since.
In 2007, for instance, the state briefly resumed its pre-1970s primary election process for a few years. Cleo Fields, a former state senator, pushed for the change, arguing that Louisiana was losing opportunities by sending its newly elected representatives to Washington a month later than everyone else.
"At the end of the day, Louisiana has to come to grips with the fact that the country is not going to wait for Louisiana," the former Democratic state senator said. "It just makes no sense." 
Under the more traditional model, candidates in crowded, close races would have to navigate a party primary election and, if no person reached 50 percent, a primary run-off before reaching the general election in November.
Then came 2010's wave of victories by Tea Party candidates. Fearing a challenge from the right, incumbent Republicans thought they'd have a better shot of surviving one big, open brawl on Election Day than a inter-party contest that forced them further to the right, said Roger Villere, the long-time chairman of the Louisiana Republican Party. The state's Republican-majority legislature reversed course, he said, passing a law in 2010 that restored the November jungle primary and December run-off used today.
Hunter Greene, a state representative who sponsored the legislation that re-opened the primary to all candidates in November, said voter confusion and the cost to the state (jungle primaries save Louisiana an estimated $6.5 million every other year), were the real reasons for the shift back.
But Villere says talks with Republicans and Democrats are already underway to revisit the debate over federal election dates in Louisiana next year.
"The parties feel like it doesn't always put our best candidate in a position to win," he said, adding, "There's an old saying, if a bear's chasing you, you don't have to outrun the bear, you just have to outrun the guy next to you. That's what's going on right now." 
Before it's here, it's on the Bloomberg Terminal.
LEARN MORE