St. Louis Police Slam 5 N.F.L. Players for Show of Protest
Five members of the St. Louis Rams entered the field making the "hands up don't shoot" gesture.
by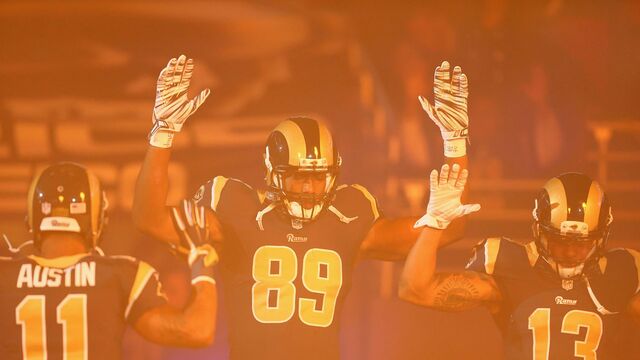 Just as reports of hope and healing have begun emerging out of Ferguson, nerves are fraying over a brief but powerful protest at the St. Louis Rams game on Sunday.
Five St. Louis Rams entered the field making the "hands up don't shoot" gesture that's become associated with the protests over the death of Michael Brown. Some witnesses say Brown had his hands up when he was killed. 
Soon after, the St. Louis Police Officers Association released a statement saying that it was "profoundly disappointed with the members of the St. Louis Rams football team who chose to ignore the mountains of evidence released from the St. Louis County Grand Jury this week and engage in a display that police officers around the nation found tasteless, offensive, and inflammatory." 
The players were tight end Jared Cook and wide receivers Tavon Austin, Kenny Britt, Stedman Bailey, and Chris Givens. "No matter what happened on that day, no matter how the whole situation went down, there has to be a change," Cook said after the game.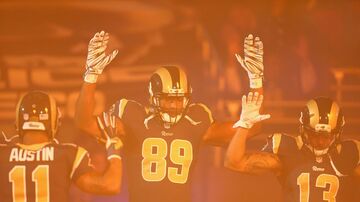 Later, in the fourth quarter, when the Rams were almost through shutting out the Oakland raiders, running back Tre Mason made the signal along with Britt after delivering a touchdown, his second of the game. The first came after an 89-yard run.  
The Rams, by the way, followed the protest with the second-biggest first half in franchise history. By the end of the game, they had 52 points, and the Oakland Raider had zilch.
The police association's statement said that the association's business manager, Jeff Roorda, was "incensed" at the action, saying that it flew in the face of all the extra protection the team had been afforded due to recent protests.   
"All week long, the Rams and the NFL were on the phone with the St. Louis Police Department asking for assurances that the players and the fans would be kept safe from the violent protesters who had rioted, looted, and burned buildings in Ferguson," Roorta said. "Our officers have been working 12-hour shifts for over a week, they had days off, including Thanksgiving, cancelled so that they could defend this community from those on the streets that perpetuate this myth that Michael Brown was executed by a brother police officer and then, as the players and their fans sit safely in their dome under the watchful protection of hundreds of St. Louis's finest, they take to the turf to call a now-exonerated officer a murderer, that is way out-of-bounds, to put it in football parlance." 
Before it's here, it's on the Bloomberg Terminal.
LEARN MORE