Obama Vows to Focus on Race Relations During Rest of Presidency
The president met with a wide range of community representatives Monday, and pledged to "make things better."
by and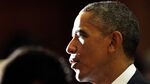 President Barack Obama pledged Monday to focus on improving America's race relations for the duration of his presidency as he responded to unrest over the police shooting of a black teenager in Ferguson, Missouri.
"In the two years I have remaining as president, I'm going to make sure that we follow through—not to solve every problem, not to tear down every barrier of mistrust that may exist, but to make things better," Obama said during one of a series of White House meetings on the demonstrations prompted by a Ferguson grand jury's decision not to indict the white police officer who killed Michael Brown.
The first black U.S. president, whose election, for many, promised racial healing, has announced no plans to visit Ferguson. Obama has instead focused on mistrust between law enforcement and the public.
"When I hear the young people around this table talk about their experiences, it violates my belief in what America can be," he said. "To hear young people feel marginalized and distrustful, even after they've done everything right, that's not who we are. And I don't think that's who the full-blown majority of Americans want us to be."
Obama spent much of the day meeting with representatives from civil rights groups, law enforcement, religious institutions, local and national government, and others.
The shooting of the unarmed 18-year-old by Ferguson policeman Darren Wilson sparked several nights of protests and violence. That anger was reignited last week when a grand jury declined to bring charges against Wilson. Protests have expanded to cities including Oakland, Los Angeles, New York and San Francisco.
Obama said the incident "laid bare a problem that is not unique to St. Louis or that area," adding that there's a "simmering distrust" between "too many police departments and too many communities of color."
—Roger Runningen contributed to this article. 
Before it's here, it's on the Bloomberg Terminal.
LEARN MORE