Obama Sets Meetings on Ferguson Unrest
Roger Runningen and Mike Dorning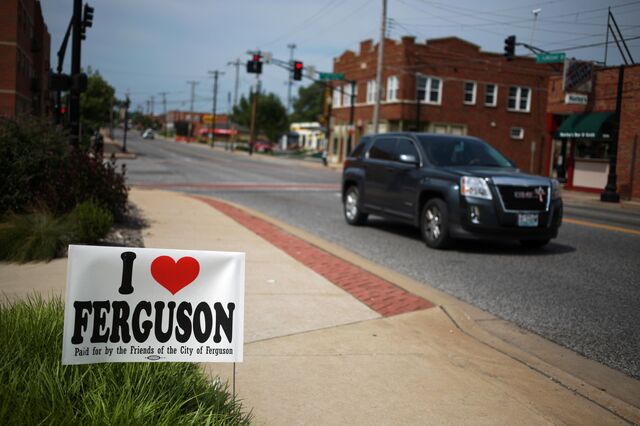 President Barack Obama said he would work to ease tension between police and blacks as he announced a request for money to give more officers body cameras and promised tighter oversight of military equipment sent to law enforcement agencies.
There's a "simmering distrust that exists between too many police departments and too many communities of color," Obama said yesterday after meeting with civil rights groups, law enforcement representatives, local government officials and others. "Too many individuals, particularly young people of color, do not feel as if they are being treated fairly."
The decision by a grand jury last week not to bring charges against a white police officer who shot and killed an unarmed black teenager in Ferguson, Missouri, exposed a problem that isn't unique to the St. Louis suburb, Obama said.
The August shooting of Michael Brown, 18, by Ferguson policeman Darren Wilson, 28, sparked several nights of protests and violence. That anger was reignited by the grand jury decision. Protests expanded to cities including New York and San Francisco. The continuing unrest prompted the meetings and initiatives from Obama.
Obama is asking Congress for a three-year $263 million community policing package that includes $75 million, along with matching funds from local governments, to supply up to 50,000 body-worn cameras for officers, according to an administration fact sheet.
Firearm Training
He also is issuing an executive order directing federal agencies that supply firearms to state or local police do so in a consistent manner and ensure proper training.
Members of the Congressional Black Caucus said on the House floor last night that the criminal justice system must be revised to prevent such killings and hold police accountable for excessive force. Several expressed support for Obama's request for funding for police body cameras.
"How long can we tolerate the shooting down of our children in the streets?" said Representative Sheila Jackson Lee, a Texas Democrat. "We must fix it and fix it now."
Representative Hakeem Jeffries, a New York Democrat, said, "People are fed up with prosecutors who don't take seriously their obligation to deliver justice on behalf of the victims of police violence."
Also yesterday, Attorney General Eric Holder said in a speech that the U.S. Justice Department plans to issue guidance in coming days that will create new standards that seek to end racial profiling by federal law enforcement.
Obama will appoint a task force to examine "how to promote effective crime reduction while building public trust," and make recommendations within 90 days, according to the White House. The panel will be led by Charles H. Ramsey, police commissioner in Philadelphia, and Laurie Robinson, a former assistant attorney general and professor at George Mason University in Fairfax, Virginia.
Mayors and civil rights activists who met with Obama said his actions were a strong first step toward addressing the tensions that triggered the protests in Ferguson and elsewhere.
"This was a powerful and historic moment," said New York Mayor Bill de Blasio. "There's a real sense of resolve, a sense that we have to solve these problems right now in our lifetime, right now in this year and next year while this president's in office."
Al Sharpton, the reverend and civil rights activist, said the results will be what matters.
"What happens after the meeting will determine whether we just had a feel-good session, or whether we're moving towards change," said Sharpton, founder of the National Action Network and the host of a MSNBC talk show.
'Long-Term Task'
"This is a long-term task," said Karen Freeman-Wilson, mayor of Gary, Indiana. "This is not something that's going to happen overnight."
Obama pledged to work on the issues during his last two years in office.
"I'm going to make sure that we follow through -- not to solve every problem, not to tear to down every barrier of mistrust that may exist, but to make things better," he said.
The president met with his cabinet to review federal programs that supply equipment to state and local law enforcement agencies.
Five federal departments or agencies supply hardware such as small arms and night-vision goggles, to local agencies, according to the White House, which said in a report that not all of the equipment has a law enforcement purpose and that training is sometimes inadequate or inconsistent.
Training Programs
An executive order being drafted directs government agencies to work with civil rights groups to ensure all equipment has a legitimate civilian law enforcement purpose and that training programs are in place.
That won't mean such programs would be curtailed, because they are useful, said White House Press Secretary Josh Earnest. He cited the military equipment used by local authorities following the Boston Marathon bombing last year.
"We've found that in many cases, these programs actually serve a very useful purpose," Earnest said. "What is needed, however, is much greater consistency in oversight."
Images of police in Ferguson in military-style uniforms and wielding automatic weapons atop armored vehicles helped stoke anger and prompted some calls in Congress to examine the militarization of local law enforcement.
There has been a "disintegration of trust between law enforcement agencies and the people they protect and serve," the White House said in a statement. This "can destabilize communities, undermine the legitimacy of the criminal justice system, undermine public safety, create resentment in local communities, and make the job of delivering police services less safe and more difficult."
Attorney General
Obama has left the door open for a visit to Ferguson. Earnest said there are "no specific plans" for the president to go there.
Holder is seeking to identify steps to ensure that law enforcement is handled fairly across the country, including through better training and accountability, according to the administration.
The Justice Department is conducting two inquiries spurred by the Ferguson shooting. The first is reviewing whether Wilson, who in his grand jury testimony said he feared for his life in his confrontation with Brown, violated federal civil-rights laws when he killed him. The other is a broader look at whether Ferguson police have a pattern of violating citizens' rights. Neither investigation is nearing completion.
Wilson, the police officer, resigned from the force in response to threats, Ferguson Mayor James Knowles said yesterday. The resignation was effective immediately and he was given no severance pay, Knowles said.
Before it's here, it's on the Bloomberg Terminal.
LEARN MORE