5 Takeaways from Obama's Police Militarization Report
He still isn't ready to say what should be done about it.
by and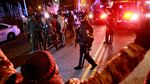 Two weeks after police clashes with Ferguson protesters led questions about the federal government's program to send military equipment to state and local law enforcement departments, President Obama announced a formal review. Four months later, the White House released its findings. Here are five of the most important revelations:
1. Obama's review will lead to ... more review? 
The president is announcing two executive orders in conjunction with the report. One will establish a 90-day task force to figure out "how to promote effective crime reduction while building public trust" to be led by Philadelphia Police Commissioner Charles H. Ramsay and George Mason University professor Laurie Robinson, a former Justice Department official. The other will give federal agencies with a stake in the issue, including the Defense and Justice departments, 120 days to develop their own recommendations which may (or may not) include lists of what equipment local law enforcement agencies are permitted to acquire. Sweeping changes to the programs initially sought by lawmakers appear to have stalled out amid pressure from the law enforcement community (our colleague David Weigel has a good look at the behind the scenes lobbying that led to that point here) and Obama's report only nudged the ball.
2. Almost a half a million pieces of military equipment are now in the hands of state and local police
Under the Pentagon's 1033 program, which allows the defense secretary to transfer excess supplies and equipment to local law enforcement agencies without charge, only 4% of the property provided last year was "controlled" property that may include military equipment, high-power weapons and tactical vehicles. In raw numbers, that meant 78,000 pieces of equipment last year, bringing to about 460,000 the number of pieces of equipment now in local agencies nationwide. The Defense Logistics Agency has made such transfers to 8,000 federal and state agencies overall, with $2.7 billion in just the last five years. State and local law enforcement agencies got $18 billion in funds and resources overall from the federal government between fiscal years 2009-2014, the review found. These came from the departments of Defense, Justice, Treasury, Homeland Security, and Office of National Drug Control Policy. 
3. The White House has found this program to be useful
Here's one reason why Obama is not taking more aggressive action: turns out the White House found the programs were considered quite useful by law enforcement, most notably in the wake of the Boston Marathon bombing, Press Secretary Josh Earnest said today. Instead of scrapping the programs altogether, the initial review led the administration to determine that oversight and training were the answer, not a wholesale shutdown of the programs.
4. No legislation or proposals are endorsed to address police militarization
The demilitarization issue only underscores the longstanding difficulties administration has had with these issues. There are limits to what Obama can do both because of separation of powers and because of the politics involved including public support for law enforcement agencies since the 9/11 attacks and the power of the law enforcement and gun lobbies. President Obama sought and failed to get stronger gun control legislation after the school shooting in Sandy Hook Elementary School shooting in Connecticut in 2012. Local police departments across the U.S. have been amassing military equipment for years, fueled by federal government grants and programs that distribute surplus gear from the Pentagon. The stockpiles have grown faster as the Homeland Security Department promotes domestic anti-terror initiatives and the military winds down from wars in Iraq and Afghanistan. This latest report does not even recommend legislation or weigh in on proposals that would address military equipment going to local police.
5. But they are backing body cameras with $75 million
Via our colleague Roger Runningen, the White House will call for $263 million to help equip local police, tossing another issue into what has become a contentious debate over funding the government into next year. Obama is proposing a three-year package to use body-worn cameras and expand training programs for local law enforcement agencies. About $75 million of the money, on a 50 percent matching basis with local government, would be earmarked for the purchase of about 50,000 body-worn cameras to record disputes between police and civilians. 
Before it's here, it's on the Bloomberg Terminal.
LEARN MORE