POTUS Reading List: The Books Obama Bought at Politics & Prose
The president bought 17 books on Small Business Saturday, some highbrow, others not.
by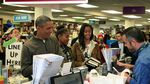 President Obama visited Politics and Prose, an independent bookstore in Washington, D.C. on Saturday, to promote small businesses by buying a giant stack of books. 
The president, accompanied by his daughters, purchased 17 books on Small Business Saturday, ranging from recent National Book Award and Man Booker Prize winners to children's and young adult books. While we can't imagine who at the White House plans to read "Junie B. Jones and the Stupid Smelly Bus," Obama's adult purchases offer an interesting selection for book nerds.
The full list is available here, but these are the titles the president most likely purchased for himself.
"The Narrow Road to the Deep North" by Richard Flanagan
This book just won the 2014 Man Booker Prize for Fiction, making Flanagan the third Australian to win the British literary award. The novel follows the story of a surgeon at a Japanese POW camp.
"The Laughing Monsters" by Denis Johnson
According to the book flap, "The Laughing Monster's" is a "a high-suspense tale of kaleidoscoping loyalties in the post-9/11 world." It follows a NATO intelligence agent and a soldier of fortune pretending to sell nuclear weapons.
"All the Light We Cannot See" by Anthony Doerr
This National Book Award finalist is about a French girl and a German boy living in occupied France during World War II. 
"Heart of Darkness" by Joseph Conrad
Anyone who was half awake during high school English class has heard of Joseph Conrad's 1899 novella about imperialism in Africa, which later served as a major inspiration for Francis Ford Coppola's film "Apocalypse Now ." Last year, Obama's  literary classic selection was 1918's "My Ántonia" by Willa Cather. 
"Nora Webster" by Colm Toibin
The Washington Post called Toibin's 10th novel, set in an Irish town during the 1960s and 70s, "A masterful portrait of a grieving woman finding herself." 
Before it's here, it's on the Bloomberg Terminal.
LEARN MORE