PACs Shift Support from Landrieu to Cassidy in Louisiana Senate Runoff
Political donations underscore the Republican challenger's edge in the December 6 runoff election.
by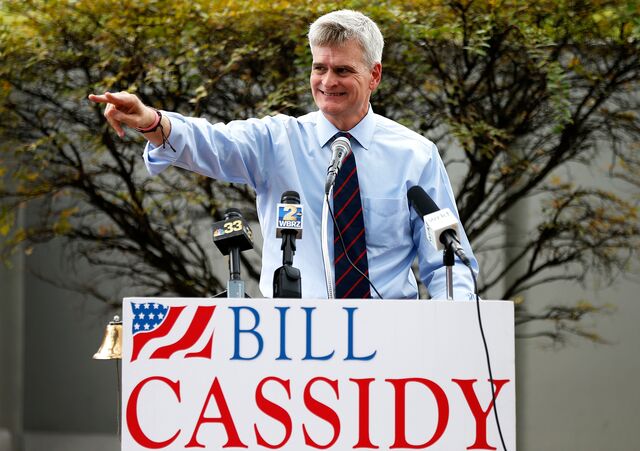 More evidence that Republicans have the edge in Saturday's Louisiana U.S. Senate runoff: Republican Bill Cassidy is getting campaign contributions from groups that either previously donated to Democratic incumbent Mary Landrieu or heretofore sat out the election.
Political action committees—the campaign funds of corporations and trade organizations—like to bet on winners. And polling, TV advertising and the racial and partisan composition of voters casting early ballots in the December 6 election favor Cassidy.
Blue Cross Blue Shield Association's PAC sent $5,000 to Cassidy's campaign on November 21 after giving $1,000 to Landrieu in May, Federal Election Commission filings show. The PAC donated twice in early 2013 to Cassidy before he announced he was running for the Senate. Cassidy is a gastronenterologist who has campaigned on a platform of opposing President Barack Obama and replacing his health-care law.
Oklahoma City-based Devon Energy Corp.'s PAC sent $5,000 to Cassidy on November 21 after donating to both Cassidy and Landrieu in March 2013, just before Cassidy announced he would seek to unseat Landrieu. Devon is a member of the Denver-based Western Energy Alliance, whose PAC sent $2,500 to Landrieu last November and a matching $2,500 donation to Cassidy on November 19.
Closer to home, the Baton Rouge-based PAC of the Adams & Reese law firm sent $5,000 to Cassidy's Senate campaign on November 21, a match of the $5,000 it sent in March to Landrieu's leadership PAC, Jazz PAC. Cassidy represents the Baton Rouge area in the House of Representatives.
Ecolab Inc., based in St. Paul, Minnesota, has donated twice to both candidates through its PAC since July, including $5,000 to Cassidy's campaign on Nov. 21, Federal Election Commission records show.
Some PACs donated to Cassidy this month after eschewing donations to both him and Landrieu for the entirety of the Louisiana Senate race, according to FEC data and the Center for Responsive Politics. They include the PACs of American Airlines; Caterpillar Inc., the Peoria, Illinois-based maker of construction equipment; and Bloomin' Brands, the Tampa, Florida-based parent of Outback Steakhouse.
Landrieu's donations reflect her seniority leading the Senate energy committee, a leadership spot she'll lose even if she wins re-election because Republicans have already clinched a majority. A Cassidy win would give Republicans 54 seats in the 100-member Senate.
Landrieu, who's tried to get the Keystone XL pipeline built over opposition from most Democrats, received some political contributions this month from energy PACs including BP, ConocoPhillips and the American Petroleum Institute. Before the first-round vote on November 4, Landrieu told NBC's Chuck Todd that Obama was unpopular in Louisiana in part because he put in place a moratorium on deep-water drilling after the 2010 BP oil spill in the Gulf of Mexico.
Before it's here, it's on the Bloomberg Terminal.
LEARN MORE