The Ricks Are Back: Perry Joins Santorum in Edging Closer to 2016
If at first you don't succeed...
by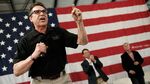 It's beginning to look a lot like 2012.
Texas Governor Rick Perry will spend his final weeks in office rebuilding his national brand as he considers running for president again in 2016, according to a Politico report published Saturday. Perry is one of two Republicans from the last presidential race who are deliberating another campaign. Last Sunday in a CNN interview, former Pennsylvania Senator Rick Santorum pointed out the obvious: "I'm doing everything consistent with a run for 2016, but I haven't made any final decisions yet."
Santorum, a social conservative, scored some surprising wins in 2012, and was the runner-up to nominee Mitt Romney. He campaigned for Republican candidates for Congress ahead of this year's midterms, has been showing up more on TV and in print, and reportedly has been courting potential supporters.
Now comes Perry.
The three-term Texas governor jumped into the presidential contest in August 2011, but didn't perform so well in the primary debates. A certain four-letter word—"oops"—pretty much did him in at a debate that November, when he vowed to eliminate three government departments, only two of which he remembered. He dropped out just before the South Carolina primary in January.
Perry's own summary of his 2012 campaign: "painful" and "very humbling."
"Preparation is the single most important lesson that I learned out of that process," he said at a Christian Science Monitor breakfast in June. "If I do next year make that decision" to run for president, "I will be prepared."
Perry's team expects that he will meet with more than 500 major donors, bundlers, and political operatives in December, according to Politico.
He's got some nice new accessories to help along the way, namely hipster glasses and a recently launched campaign account that aims to elect like-minded Republicans. It's called RickPAC.
Before it's here, it's on the Bloomberg Terminal.
LEARN MORE