Police Arrest 16 in Ferguson as New York Students Join Protests
Toluse Olorunnipa and Cordell Eddings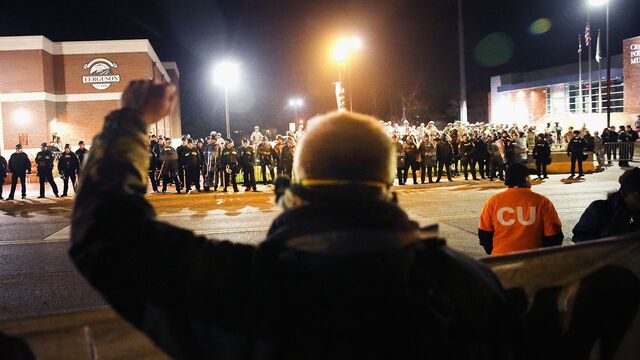 Police arrested 16 people in Ferguson, Missouri, as demonstrators across the U.S. shut down shopping malls and planned a 120-mile march to protest the killing of an unarmed black teenager by a white police officer.
Police in riot gear moved in on a crowd of about 150 protesters in Ferguson around 10 p.m. yesterday, making arrests for disturbing the peace, according to the St. Louis County Police Department. One person was charged with assault on a police officer in a scuffle that left the officer injured, the department said.
Only one of the protesters arrested was from the St. Louis area, police said. Groups from cities including New York and Chicago had traveled to demonstrate in front of the Ferguson police station after a grand jury declined to bring charges against the officer.
"Ferguson police, you can't hide -- we charge you with genocide!" the group chanted as dozens of officers and members of the National Guard looked on. The demonstrators held a banner that read: "NYC Students Fight Racist Police Terror."
The arrests -- the most since the St. Louis region erupted with riots and looting on Nov. 24 and 25 -- show that Ferguson remains a national flashpoint for racial discontent. Demonstrators protesting the Aug. 9 killing of 18-year-old Michael Brown by police officer Darren Wilson have cast Ferguson as an emblem of poor relations between police and minority communities from New York to Los Angeles.
'A Movement'
"This has grown from a moment to a movement," said Leslie MacFadyen, who runs a website that aggregates information about the hundreds of Ferguson-related protests nationwide. "And part of it being a movement is that the activity needs to be sustained. There are many things that are going to be planned in the coming weeks and months."
Protesters temporarily shut down at least three shopping centers in the St. Louis region today, staging "die-ins" and chanting to customers. Demonstrations in Washington and Seattle also disrupted shoppers.
Several more demonstrations are planned, including a 120-mile march from Ferguson to the governor's mansion in Jefferson City, scheduled to begin today.
More Protests
In St. Louis, more than 300 activists, community members and clergy filled the pews of the Greater St. Marks Family Church to plan further protests and vote on a list of demands.
"We don't want to have protests without a plan or explicit goals," said Lisa Cagle, one of the leaders of the meeting. "And without the people showing up, the planning is meaningless. It's good to see so many people showing up in support who want to be involved."
The groups called for the firing of Ferguson Police Chief Tom Jackson and a state law requiring police forces to better reflect the racial makeup of communities they serve.
The demonstrations are starting to tax government resources. Missouri Governor Jay Nixon, a Democrat, called yesterday for a special session of the state legislature to approve more funding for the National Guard. Nixon, 58, who deployed 2,200 guardsmen to quell the rioting, told lawmakers that the state needs to appropriate more money to ensure guard forces get their paychecks on Dec. 15.
"Time is of the essence," Nixon said in an e-mailed statement. "It is vital that we act quickly so that we can fulfill our obligation to the men and women who are so bravely and capably serving their fellow citizens."
Before it's here, it's on the Bloomberg Terminal.
LEARN MORE