Landrieu Attacks as Early Voting Reveals Good News for Cassidy
Whites and Republicans make up larger portion of the early vote in Louisiana's runoff.
Annie Linskey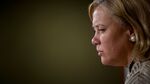 With early-vote trends looking grim and her runoff election just over a week away, Democratic Senator Mary Landrieu went on the attack Friday, accusing Republican Bill Cassidy of taking taxpayer money for work he didn't do at a Louisiana State University hospital system.

Citing reports that Cassidy worked as few as seven hours a month as a part-time doctor for the university, Landrieu said they were part of a set of "serious allegations" since there was "no evidence that any work was done" for periods of time in which Cassidy collected his paycheck. In a conference call with reporters, Landrieu's campaign asserted that Cassidy was supposed to work 30 hours a month for the pay. The hospital provided only a portion of Cassidy's time sheets in response to public records requests. Landrieu called on Cassidy to make the remaining records available ahead of a debate scheduled for Monday. 
Cassidy, a physician as well as a U.S. congressman, has said that he was a salaried employee during the time in question, and therefore his hourly activities have no bearing on his paycheck. "I don't earn more money by recording hours, I am on salary," Cassidy told ABC News. "All I am trying to do is let LSU know what I am doing. I get the same no matter what I do."
In a statement, Cassidy said that he's the only liver specialist at the hospital who serves uninsured and Medicaid patients. "I've said all along, if LSU no longer has a need for my services, they can let me go," he said. "Senator Landrieu is attacking LSU more than she is me in her 11th-hour attempt to salvage her political career."

Landrieu is struggling through the final days of the runoff election, set for Dec. 6. Early balloting trends suggest a spike in interest among white voters and Republicans, while blacks—who nearly universally support the incumbent—are proportionally making up a smaller part of the vote.  The first four days of voting in Louisiana show that whites made up about 72 percent of the early electorate. That's above the 65 percent of whites who voted early before the Nov. 4 election. 
About 11,000 blacks have come out to vote on average each day in the current early voting period, according to data the Louisiana secretary of state's office released Friday. That's about the same as before the midterm elections. But whites are voting in much larger numbers,  with 31,000 casting ballots on average each day compared with 23,000 daily before the November election.

Landrieu won about 618,000 votes on Election Day in an eight-way race, but didn't reach the 50 percent needed to avoid the runoff. Cassidy placed second with about 602,000 votes. Tea Party favorite Rob Maness won about 200,000 votes, and he's since endorsed Cassidy along with a parade of other conservative headliners, including former Alaska Governor Sarah Palin. 
According to exit polls, roughly 94 percent of African-American voters supported Landrieu on Nov. 4, making them by far her most enthusiastic voting bloc. She only had 18 percent of support from whites. 
Ryan Berni, Landrieu's campaign manager, said during the Friday conference call that the runoff is "a new race" and "the dynamics of this race are very different from the primary." For one thing, the voting period this time around will include three Saturdays: Two in the early voting period and a third on the Dec. 6 runoff. This, Landrieu staff argued, should favor lower-wage workers, who generally support the incumbent and may have not had a chance to vote in the November election, held on a Tuesday.  "We're confident our voters will show up in full force for Senator Landrieu, like they have in five previous statewide elections," said Fabien Levy, Landrieu's campaign spokesman.
Landrieu's campaign also contends that African-American turnout has been trending upward, suggesting a growing enthusiasm undetectable in the aggregate figures put out by the secretary of state's office. 
The data shows good news for Cassidy in other areas. There's a higher percentage of Republican voters in the early voting pool: 40 percent this time compared with 34 percent before the Nov. 4 election. Also, the percentage of female voters—a group that supported Landrieu last time—has dropped slightly from 56 percent last time to 54 percent in the current period.  
There were seven days of early voting before the Nov. 4 election.  This time it will be five days because of Thanksgiving and Friday's Acadian Day, a state holiday celebrating Louisiana's Cajun heritage. The Louisiana Legislative Black Caucus lost a court challenge to extend the runoff's early voting time frame, arguing that the lost days would disenfranchise thousands of voters.
Before it's here, it's on the Bloomberg Terminal.
LEARN MORE