Why Some Shoppers Aren't Shopping on Black Friday
Retail workers, and some consumers, aren't celebrating the long holiday hours.
by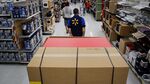 Thanksgiving is the most all-American of holidays, but Black Friday has gone global. From England to South Africa, Sweden to Senegal, deals and steals abound, welcoming the greedy gift season. What retailer wouldn't want in?
In the U.S, approximately 140 million people were expected to shop on Black Friday weekend, in stores or online. (As the New York Times noted, that's more people than voted in the Nov. 4 midterms.) Purchases are rising too, as the country rouses from recession's throes: the National Retail Federation anticipates that sales in November and December will be up 4.1 percent from last year, to $616.9 billion. Black Friday was supposedly named for the holiday sales that lift retailers out of the losing "red" ink and "into the black." Businesses love it, as do consumers, convinced (often incorrectly) that they're getting in on the year's best bargains.  
Whom doesn't Black Friday thrill? Many retail workers, who would like the option of taking a day off, like the rest of us. At the least, they would rather not rise extra-early to greet the hordes. Some workers are protesting Friday outside their stores, while some shoppers are staying home in support. (It's too early to determine exactly how many.)
The U.S. is the only developed nation where workers are not guaranteed paid vacation or holidays, and the weeks of Thanksgiving and Christmas underscore the bitterness of that fact.  The liberal blog Think Progress—an editorially independent project of the Center for American Progress Action Fund—recently quoted workers at Kmart and Target saying they risked termination if they request time off, or don't come in, for Thanksgiving sale days.
The minimum wage has been much discussed in national politics this year; the literally poor people who have to work on Thanksgiving have received an unusual amount of legislative attention. On Tuesday, just days before the holiday rush, the San Francisco Board of Supervisors unanimously passed a "Bill of Rights" for that city's retail workers. The measure, requiring large chain retailers to post schedules at least two weeks in advance (and guaranteeing supplemental pay if unexpected changes are made), awaits signature from Mayor Ed Lee, a Democrat. In Cleveland, State Representative Mike Foley, a Democrat, has introduced a bill to require retailers to pay triple wages for its employees who work on Thanksgiving. 
Wal-Mart is the United States' largest private-sector employer, employing about 1.4 million Americans, and therefore particularly crucial in national wage battles. Last year, Bloomberg Businessweek reported that more than half of the company's hourly workers make less than $25,000. Since 2012, a worker group called OUR Walmart has organized one-day protests on Black Friday asking for $15 an hour in wages and better working conditions.
As former Labor Secretary Robert Reich noted in a recently released video in support of the group and its protests, the Walton family, descendants of the firm's founder, is easily the nation's richest, yet the chain's employees are so poorly paid that some have held food drives for each other. 
Last week, Senator Elizabeth Warren of Massachusetts and Representative George Miller of California, both Democrats, invited two workers from OUR Walmart to speak at a forum in Washington. According to the Huffington Post, one of the workers, Cantare Davunt, said: "I make 10 dollars and 10 cents an hour. Under Wal-Mart's part-time business model, I only get 16 hours a week. My take home pay is about $120 after taxes. Not unlike many of my co-workers, this means I must decide which bills are necessary and which expenses to skip to pay for another."
After the hearing, Warren tweeted: 
The U.S. Chamber of Commerce has blasted the protesters. A statement by Glenn Spencer, Vice President of the Workforce Freedom Initiative, noted that "OUR Walmart doesn't represent employees, they represent the United Food and Commercial Workers union. No amount of street theater and run-ins with the law changes that." 
Against the Waltons and their friends, OUR Walmart is badly outmatched. But it managed to stage protests beginning early Friday at stores in Washington D.C., Illinois, New Jersey, California, and Minnesota. The AFL-CIO has announced its support.
Several tweets using the hashtag #WalmartStrikers also include hashtags like #Ferguson, #BlackFridayBlackout, or #HandsUpDontSpend, referring to a St. Louis grand jury's decision not to indict Ferguson police officer Darren Wilson in the killing of Michael Brown—and a subsequent call to boycott Black Friday shopping. Bloomberg News' Toluse Olorunnipa reported Friday morning that demonstrators dirsupted holiday shopping at about six shops and malls across greater St. Louis.
It's rare for Americans to lean on collective organizing or demonstrating. But some are voting with their wallets. As a Richmond, Va. resident told his local NBC news channel, "Money talks and everything else walks. Let's hit them in the pocket and let them know that we really mean business."
MORE ON BLOOMBERG POLITICS
Before it's here, it's on the Bloomberg Terminal.
LEARN MORE