How Elizabeth Warren Works the Refs (Without Running for President)
The Massachusetts senator executes a perfect hit on an Obama nominee.
by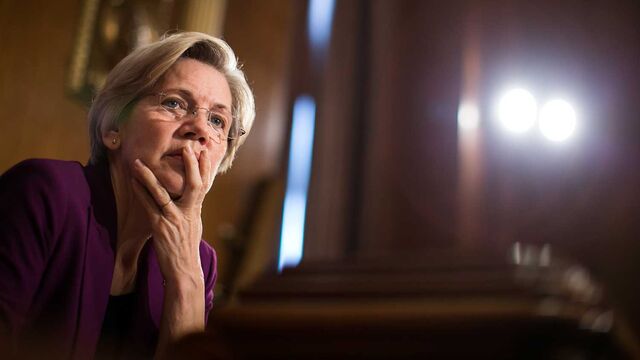 Massachusetts Senator Elizabeth Warren possesses a rare and useful skill. She can elevate a dull-sounding policy battle into a manichean struggle, fit for consumption on The Daily Show or Last Week Tonight—or, more importantly, Twitter. To wit: Warren's decision, backed up by a Huffington Post column, to oppose Antonio Weiss, the White House's nominee for Under Secretary for Domestic Finance at the Treasury Department.
"Weiss has spent most of his career working on international transactions—from 2001 to 2009 he lived and worked in Paris—and now he's being asked to run domestic finance at Treasury," wrote Warren. "One of the biggest and most public corporate inversions last summer was the deal cut by Burger King to slash its tax bill by purchasing the Canadian company Tim Hortons and then 'inverting' the American company to Canadian ownership. And Weiss was right there, working on Burger King's tax deal."
Warren's op-ed, as my colleagues reported at the time, elevated what might have been an obscure case against a nominee. She did the same in 2013 when she endorsed an existing plan, favored by Ohio Senator Sherrod Brown, to expand Social Security by raising the payroll tax cap. The idea predated Warren, but she turned it into a litmus test for progressives; drive-by observers suddenly understood the plan as a cause for the left, and therefore something to oppose.
The same is happening to the Weiss nomination backlash. Five days after Warren's HuffPost piece went up, Andrew Ross Sorkin published a column tsk-tsking the senator over her "misplaced rage," as "her understanding of the so-called inversion deal on which she bases much of her opposition appears misinformed." He was beaten to the defense by the Wall Street Journal's editorial board, which attacked Warren and fellow Weiss skeptic Dick Durbin for opposing Weiss after voting for Treasury Secretary Jack Lew, a veteran of Citigroup. "The President should upgrade the Treasury by hiring a Secretary who succeeded on Wall Street," wrote the board—meaning, it should kick out Lew and give his job to Weiss.
That was fun, as an exercise in trolling, but it fed right into Warren's strategy. Before Thanksgiving, HuffPost's Ryan Grim and Jennifer Bendery reported on the effect of the campaign. Weiss was unlikely to get a Finance Committee hearing before the Republicans took over the Senate. Two Democratic members of the committee, Sherrod Brown and Washington's Maria Cantwell, were increasingly seen as "no" votes. Warren was not part of the calculus—because she's not actually on the committee. She had worked from the outside to make Weiss infamous.
The small group of progressives may look at this as evidence that Warren should run for president. Another way to look at it: She can mobilize progressives and enrage the right, on her terms, without giving a speech (her two big public speeches during the Weiss fight have not mentioned it) or heading to Iowa.
Before it's here, it's on the Bloomberg Terminal.
LEARN MORE