Ferguson Demonstrations Expand to Black Friday Retailers
Toluse Olorunnipa, Cordell Eddings and Allyson Versprille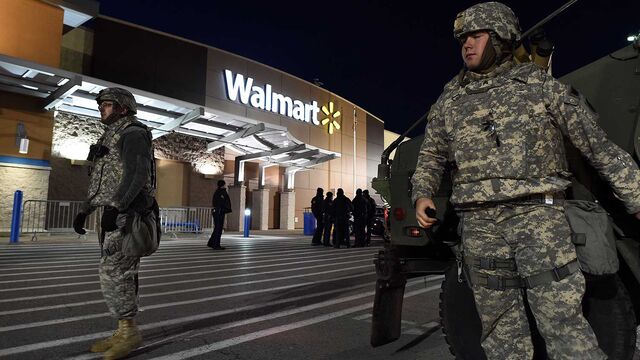 Demonstrators protesting a grand jury's decision not to indict a white police officer in the killing of an unarmed black teenager attempted to disrupt holiday shopping from New York to San Francisco.
Some of the Black Friday protests led to faceoffs with police in Manhattan's Herald Square and suburban St. Louis, where demonstrators at the Galleria lay down on the floor in a "die-in," temporarily forcing the mall to close. In Oakland, California, demonstrators shut down some Bay Area Rapid Transit service, the agency said on its website.
Crowds have been demonstrating since a county grand jury decided Nov. 24 not to indict Officer Darren Wilson in the August fatal shooting of Michael Brown in Ferguson, Missouri. Today's activity in the St. Louis area was different because it occurred in places previously untouched by unrest. Protesters said it was part of a strategy to expand the movement.
"This needs to come to the suburbs," said Lucy Randall, a 23-year-old student at Washington University in St. Louis. She marched through the West County Center in Des Peres, Missouri, holding a sign that read: "Silence = Death."
'Don't Shop'
In New York, hundreds of protesters took to the streets, marching from Herald Square to Times Square with signs that read, "Out of the Store, Into the Street," while chanting "Hands Up, Don't Shop."
Demonstrators congregated in front of the New York Public Library chanting, "Black lives matter" and beating drums. When police gathered in front of the crowd, there were cries of "Who do you serve?"
Demonstrations were planned in more than 40 cities, according to Leslie MacFadyen, who runs a website that aggregates Ferguson-related protests nationwide.
Brown was killed Aug. 9 by Wilson, a 28-year-old officer. An autopsy showed that he had been shot six times. His death has become a national symbol of racial inequality and heavy-handed police tactics.
Black Friday, the day after Thanksgiving, marks the beginning of the holiday shopping season. Some retailers kicked off the event early by opening their stores last night.
"A lot of the actions in Ferguson have been able to be removed from the kind of daily life of the suburban people," Randall said. "And this feels like, 'OK, we're coming to you.'"
Santa Leaves
More than 200 protesters marched through the St. Louis Galleria Mall chanting and singing as shoppers looked on. Several stores closed during the march, with some locking customers inside. A man in a Santa Claus costume who had posed for pictures with children earlier in the day left oversized chair as protesters chanted "No Black Friday."
Residents across St. Louis called the police earlier in the day to ask whether it was safe to shop at local malls, according to Rick Eckherd, a St. Louis County police spokesman.
At one branch of Wal-Mart Stores Inc. in Manchester, Missouri, about two dozen officers formed a line in front of the store, blocking protesters from entering. National Guard Humvees and police cruisers could be seen driving around parking lots in Wal-Marts, Target Corp. stores and malls.
Scared Shoppers
In Manchester, several dozen protesters marched through stores with their hands up, chanting "Arrest Darren Wilson" and "No Justice! No Peace!"
Michael Scott encountered protesters on two separate occasions while shopping early this morning in suburban St. Louis. Their presence at a Wal-Mart sent shoppers scurrying away, and their chanting disrupted shopping at the West County Center, said Scott, 18.
"It's ignorant," he said. "They're fighting racial prejudice by fitting their stereotype."
Scott said the protesters should accept the grand jury's findings, at one point clapping his hands at the group and saying, "You don't have all the evidence. You don't have all the evidence."
Kathy Toghiyany, a 57-year-old from Ladue, Missouri, said the demonstrators were scaring shoppers.
"They need to lock them up and keep them locked up," she said. "Why do they have to harass us? I'm not afraid of them. The police are afraid of them -— they need to stop this."
Toghiyany, who is white, said she used to live in the northern part of St. Louis County, where many of the protests have taken place. She was part of the exodus of whites from the inner suburbs to the towns further out from the city.
"I'm glad I left," she said.
Before it's here, it's on the Bloomberg Terminal.
LEARN MORE