The Key to the White House Thanksgiving Pie Recipe Is European Butter
Susie Morrison will direct everything from state dinner desserts to presidential pie.
by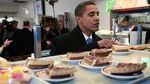 As the holiday season begins, the White House has named a new executive pastry chef, the person responsible for all things dessert at 1600 Pennsylvania Ave.
Susan E. "Susie" Morrison is the seventh person, and first woman, to serve in the role. She's been assistant pastry chef since 2002, and will replace Bill Yosses, who left in June after seven years in the presidential kitchens. The White House said Morrison was too busy for an interview, but Yosses, now director of the culinary lab at ChopChop, a nonprofit quarterly food magazine for kids, agreed to speak. 
"Susie is a wonderful and very talented chef, person, and manager," Yosses said. "A natural fit for the job."   
Yosses said he and Morrison often collaborated, and predicts she will continue seeking out better food sources, fresh ingredients, and promoting healthy eating. That's little surprise, because First Lady Michelle Obama picks the White House chefs. And while the healthy-food mandate may preclude the use of white sugar in some desserts, there's still plenty of wiggle room for treats.
"If cronuts were appropriate, I am sure she would make them," Yosses said.
The official White House chefs are called upon to create special menus for events ranging from three or four attendees to up to 600. They come up with their own ideas and also cull from a huge database of recipes developed by their predecessors. Over the past six years, as Michelle Obama promoted a White House garden and beehive, White House food changed as well, Yosses said. "To be able to pick fresh ingredients just outside your back door is a fantastic opportunity and within reach of anyone with a little patch of dirt," he added.
As for the rumor that Yosses sometimes chafed at the East Wing's eat-healthy directives? "It is an honor and privilege to serve the First Family," Yosses said. "If they had asked for cakes shaped like dinosaurs that walked down Pennsylvania Avenue I would have found a way to make it."
One thing he happily made: Thanksgiving pies. For the holiday, Yosses often made as many as half a dozen types of pie, a well-known presidential weakness.  "I can say that I am proud of getting his favorite dessert right," Yosses said. "A person deserves a good dessert once in a while--especially someone who works as hard as he does."
Here's one of his favorites.
Pumpkin pie
Contributed by Bill Yosses
CRUST
Time: 15 minutes, plus one hour chilling 
Yield: One 9-inch single pie crust
Ingredients:
1 1/4 cups all-purpose flour
1/4 teaspoon salt
8 tablespoons (4oz) unsalted butter, preferably a high-fat, European-style butter like Plugra, chilled and cut into 1/2-inch pieces keep cold
1 tablespoon (2oz) lard
2 to 5 tablespoons ice water
Method:
In a food processor, briefly pulse together the flour and salt. Add butter and pulse until mixture forms chickpea-size pieces (3 to 5 one-second pulses). Add ice water one tablespoon at a time, and pulse until mixture is just moist enough to hold together.
Form dough into a ball, wrap with plastic and flatten into a disk. Refrigerate at least 1 hour before rolling out and baking.
Preheat oven to 375 degrees.
On a lightly floured surface, roll out pie crust to a 12-inch circle. Transfer crust to a 9-inch pie plate. Fold over any excess dough, then crimp edges. Prick crust all over with a fork. If you have time, freeze crust for 15 to 30 minutes; otherwise skip this step.
Cover pie with aluminum foil and fill with pie weights, rice or dried beans. Bake for 15 minutes; remove foil and weights and bake until pale golden, 15 minutes more. Cool on rack until needed.
Yosses recommends pre-baking the crust. After the crust is filled (see below), bake again. The filling will prevent the crust from burning. Cover the exposed crust around the perimeter with aluminum foil if it's getting too dark.
FILLING
Ingredients:
3/4 cup granulated sugar
1 teaspoon ground cinnamon
1/2 teaspoon salt
1/2 teaspoon ground ginger
1/4 teaspoon ground cloves
¼ tsp ground cardamom
2 large eggs
1 can (15 oz.) pumpkin pie filling
1 can (12 fl. oz.) evaporated milk
Method:
Preheat oven to 350 degrees.
Mix sugar, cinnamon, salt, ginger, cloves, and cardamom in small bowl.
Beat eggs in large bowl. Stir in pumpkin and sugar-spice mixture. Gradually stir in evaporated milk. Pour into pie shell.
Bake for 15 minutes at 350 degrees. Reduce temperature to 325 degrees; bake in a water bath for 60-75 minutes, or until knife inserted near center comes out clean.
Cool on wire rack for 2 hours. Serve immediately or refrigerate.
Top with whipped cream before serving.
Before it's here, it's on the Bloomberg Terminal.
LEARN MORE