Poll: Jeb Bush Overshadowed by Mitt Romney in 2016 Field
The former Florida governor's presidential prospects improve if Romney is removed from the mix, according to a national Quinnipiac survey.
by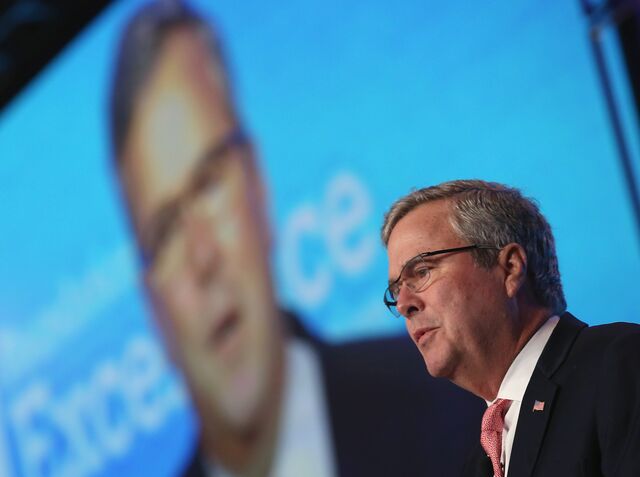 If it weren't for Mitt Romney, Jeb Bush might be looking pretty good—at least nationally—when it comes to the prospective 2016 Republican presidential field, a Quinnipiac University Poll released Wednesday shows.
Bush, a former Florida governor, was the second-most-popular pick at 11 percent among Republican voters, while Romney, who has said he's not running, was in first with 19 percent support. When Romney is dropped from the mix, Bush leads with 14 percent, followed by New Jersey Governor Chris Christie at 11 percent, neurosurgeon-turned-conservative-activist Ben Carson at 9 percent and Senator Rand Paul of Kentucky at 8 percent. 
"Jeb Bush looms large in second place," Tim Malloy, the poll's assistant director, said in a statement. "With New Jersey Governor Chris Christie also in the mix, it looks like Republican voters are favoring more moderate choices for 2016."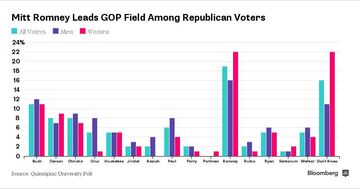 The early national numbers are as much a reflection of name recognition as anything and run somewhat counter to what polls have shown in the states that host the first two rounds of nomination voting. In Iowa, Carson was behind Romney as the first choice of likely Republican caucus-goers, according to a Bloomberg Politics/Des Moines Register Iowa Poll taken in October. He was picked by 11 percent, one point ahead of Paul. Bush, who has yet to visit Iowa this year, drew just 4 percent. Bush does better in New Hampshire, drawing 8 percent in a hypothetical field that included Romney in a Bloomberg Politics/Saint Anselm New Hampshire Poll published Monday.
Former Secretary of State Hillary Clinton sweeps the Democratic field with 57 percent, followed by Senator Elizabeth Warren of Massachusetts at 13 percent and Vice President Joe Biden at 9 percent, with no other candidate above 4 percent, and 14 percent undecided. If Clinton doesn't run, the race could get competitive, as Biden gets 34 percent of Democratic voters followed by Warren with 25 percent.
In hypothetical matchups, Romney runs best against Clinton among general election voters, taking 45 percent to her 44 percent. Clinton gets 43 percent to Christie's 42 percent, and she tops Paul, Bush and former Arkansas Governor Mike Huckabee 46 percent to 41 percent. She beats Senator Ted Cruz of Texas 48 percent to 37 percent.
The poll was taken Nov. 18–23 and included 1,623 registered voters nationwide with a margin of error of plus or minus 2.4 percentage points. It included 610 Democrats with a margin of error of plus or minus 4 percentage points and 707 Republicans with a margin of error of plus or minus 3.7 percentage points. 
Before it's here, it's on the Bloomberg Terminal.
LEARN MORE