Obama Says Anger Over Ferguson Outcome No Excuse for Violence
Roger Runningen and Jonathan Allen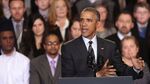 President Barack Obama acknowledged the anger of minority communities over their treatment by police and urged them not to let their frustrations boil over into the kind of violence that erupted in Ferguson, Missouri.
Burning cars and buildings won't diminish discrimination or result in fairer law enforcement, Obama said. Public anger over a grand jury's decision not to indict a white police officer in the shooting death of an unarmed black teenager should instead be directed into political action to change the system, he said.
"The frustrations that we've seen are not just about a particular incident," he said yesterday in Chicago. "They have deep roots in many communities of color who have a sense that our laws are not always being enforced uniformly or fairly."
The shooting -- and the rioting that ensued after the grand jury's finding and continued last night -- is the sort of racially charged topic that the first black U.S. president has been reluctant to address. Obama has left open the possibility that he might visit Ferguson, a nod to pressure he has received from black leaders to get more personally involved in the case.
Protests and looting erupted on Nov. 24, after the grand jury's decision was announced, in the St. Louis suburb where 18-year-old Michael Brown was killed. Demonstrations last night also took place in several other cities, including Atlanta and Boston. In Ferguson, Missouri Governor Jay Nixon tripled to 2,200 the number of Missouri National Guard soldiers dispatched to work with police in riot gear to quell sporadic violence for a second night. They made 44 arrests, mostly for misdemeanors.
'Hard Truths'
Obama used his appearance in Chicago -- where he gave a speech on his immigration plan -- to also discuss the situation in Ferguson. He deplored the spasm of violence the previous night, saying "I have no sympathy at all for destroying your own communities."
Even so, he said the protesters' frustrations were "rooted in some hard truths that have to be addressed." He pledged to work to improve practices by law enforcement agencies across the country.
Obama said Attorney General Eric Holder is investigating not only what happened in Ferguson but is also trying to identify steps to ensure that law enforcement is handled fairly nationwide, including through better training and accountability.
The Justice Department is conducting two inquiries in Ferguson. The first is reviewing whether police officer Darren Wilson violated federal civil-rights laws when he shot and killed Brown. The other is a broader look at whether Ferguson police have a pattern of violating citizens' rights. Neither investigation is nearing completion.
Special Prosecutor
The congressman who represents Ferguson said yesterday there was a risk of more confrontations between police and protesters in the St. Louis-area town of 21,000.
"I'm sure there will be disturbances until justice is delivered in this community," Representative William Lacy Clay, a Democrat, said yesterday in a telephone interview.
Clay again urged Missouri Governor Nixon, a fellow Democrat, to appoint a special prosecutor to investigate the shooting. He praised Obama's handling of the matter and said he has been in touch daily with the White House.
"This administration has been exceptional in their response to this injustice," Clay said. "We have walked through this process together, and I will not listen to voices that want to show division."
Some black leaders say the Ferguson decision is an injustice that's inextricably linked to the broader issue of racial disparity in the U.S. judicial system.
'Beer Summit'
In general, Obama has tried to avoid focusing on matters of race, though it has occasionally proven inescapable.
He gave a speech on the topic during the presidential primaries in 2008 after tapes emerged of his former pastor making incendiary remarks from the pulpit.
Early in his presidency, Obama criticized the arrest of Harvard University Professor Henry Louis Gates on charges of disorderly conduct, which were later dropped. That led to the "beer summit" between Obama, Gates, arresting officer James Crowley and Vice President Joe Biden.
More recently in the case of Trayvon Martin, the black Florida teenager who was shot and killed by George Zimmerman in February 2012, Obama said "this could have been my son." Zimmerman was acquitted last year.
"We have made enormous progress in race relations over the course of the past several decades. I've witnessed that in my own life, and to deny that progress I think is to deny America's capacity for change," Obama said last night. "But what is also true is that there are still problems, and communities of color aren't just making these problems up."
Before it's here, it's on the Bloomberg Terminal.
LEARN MORE