How Senate Republicans Turned Around Their Money Machine
The NRSC knew it would be outraised by its Democratic counterparts. Here's how the Republicans countered it on their way to a Senate takeover.
by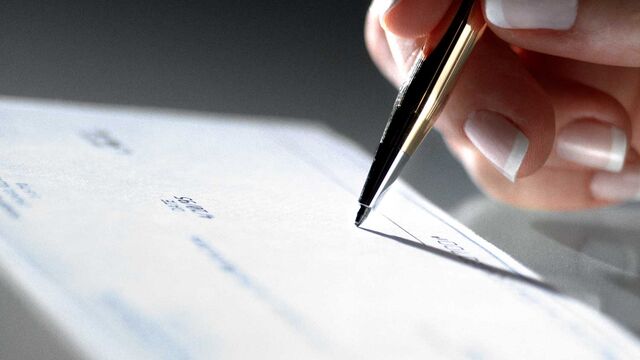 Heather Larrison is a taskmaster. The National Republican Senatorial Committee's outgoing finance director admits as much and says, only partly in jest, that she wouldn't be surprised if some staff members keep a voodoo doll of her at home.
When she emails a staffer, an assistant prints out the message and places it in a folder. At day's end, the emails are reviewed to make sure the assignment has been completed. Leaving the office with work left undone is not an option.
Occasional staff angst aside, such attention to detail and accountability illustrates the methodology Larrison used to turn around a sluggish fundraising operation. When she took over in September 2013, nine months into the 2014 cycle, she said she faced low morale, weak results, and a Democratic counterpart churning out impressive results month after month. In back-to-back elections, Republican donors had sent hundreds of millions of dollars to the party and aligned outside groups—with little to show for it.
Larrison's job: Convince them that this time would be different.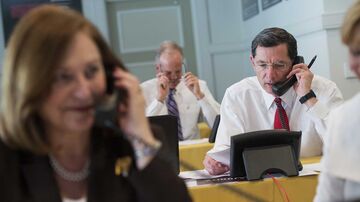 "What we do is not rocket science," said Larrison, a veteran GOP fundraiser with close ties to former Mississippi Governor Haley Barbour and Ohio Senator Rob Portman. "We are all highly organized individuals who make a road map, we figure it out, we break it down to the penny, and then we follow up on it."
Whether that strategy works is laid bare in monthly reports that drive news cycles and campaigns, though the people who generate the numbers rarely speak publicly. "They usually keep us locked in the back room," Larrison said with a laugh. For this story, Larrison and her top deputies, Dougie Simmons and Les Williamson, agreed to explain their role in helping Republicans seize the Senate majority, taking eight seats in the Nov. 4 elections.
There's a reason why Republicans now want to draw attention to the team. Within a year of her arrival, Larrison's group had topped its overall fundraising goal for the 2014 cycle. The committee set fundraising records across the board. Larrison estimates 30 cents from every dollar raised went to putting on the events, financing travel for her team or paying for the mail that makes up the core of the fundraising business—by far the lowest cost of fundraising in the committee's history. 
In other words, Republicans say that although the Democrats constantly beat the GOP in monthly fundraising numbers, those figures don't tell the whole story of the 15-person team based a couple blocks away from the three Senate office buildings, particularly given the situation the team inherited.  
Various Democratic operatives tend to chuckle at the notion that anything on the finance side is more important than the top-line numbers. Asked if he had any thoughts on the GOP's operation, Justin Barasky, the DSCC's communications director, responded with a one-line email: "We outraised them by 30 million."
True enough. The NRSC raised $115 million. The DSCC came in with more than $147 million, unleashing President Barack Obama's fundraising prowess across the country. Being the majority party in the Senate also helped.
Yet Republicans said they knew early in the cycle that Democrats would bring in more money. Their focus became figuring out a way to make the most efficient use of the money they did raise.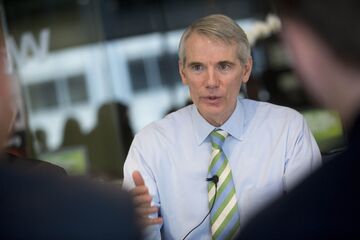 Much of the past two years was spent trying to convince top donors that this time around, they could see an actual return on their investment. Portman, the NRSC's vice chairman for finance, conducted a listening tour in December 2012, just a month after Obama beat Republican presidential nominee Mitt Romney and the Democrats picked up two seats in the Senate.
The conclusions, which Portman turned into a document circulated to top donors by the finance team, made up the backbone of a strategy built off candidate recruitment, enhancements in digital strategy and getting involved in races early to protect incumbents. Much of the strategy depended on money, but through the first half of 2013, it simply wasn't coming in fast enough. The decision was made to bring in Larrison, who had been running her own fundraising firm.
The new regime didn't sync perfectly with the existing team. Some staff left. "She'll let you know when you're doing something wrong," said Les Williamson, the deputy finance director who ran the team's operations and has worked with Larrison for more than five years. "People around here were not used to that, but have grown to respect it."
Just a few weeks after Larrison and her team joined, they thought they were about to turn a corner. Pledges and commitments by donors to host events were starting to roll in, and the Republican electoral outlook started to improve.
Then came the government shutdown. While donors honored their commitments to hold events, they struggled to get friends to attend. Republicans, it appeared, were going back down the same well that kept them from the majority in the previous two cycles. The committee estimates that the shutdown cost them millions.
Yet the new year brought a fresh crop of candidates bolstered by seasoned fundraisers, such as Colorado Representative Cory Gardner. As the president's approval rating continued to decline, the numbers bounced back.
In January, Larrison's team was given a month-by-month goal, which would go up twice more at the request of the political team. Crunch times came at the end of the month, when calls would come in that candidates were about to post weak fundraising numbers, pushing the NRSC's team to go all out for specific candidates. They would call reliable donors, ask for checks, and some cases came up with as much as $300,000 to push a candidate's way.
Larrison kept an eye not only how much was coming in, but how much was going out, pushing for cost-cutting measures at the more than 400 committee fundraising events around the country. At monthly meetings with top donors, mostly from the financial security industry, chicken, tuna and vegetable wraps were standard fare.
One donor asked Larrison if he could serve better wine at his event, noting that he simply couldn't serve the kind of wine that would fit the committee's budget. "I said, 'Well, I bet if you ask Cory Gardner if he'd rather have nice wine or a [canvasser] in Denver he'd choose that,'" Larrison recalled. "I kind of shame them into it a little bit."
There are still areas of clear Democratic advantage, particularly on the digital fundraising side, Larrison said. Portman and Utah Senator Orrin Hatch combined to raise nearly one-third of all the contributions brought in by senators during the cycle—an impressive statistic that also suggests that other incumbents could do more. And the 2016 Senate map, where Republicans will be protecting 24 seats, creates a series of new difficulties for the next NRSC team.
Still, donors have seen that the party can win, as have many of the 20-somethings who made up Larrison's team, having spent the early part of their careers on the losing side.
In the days before Election Day, with the team already having met their goal, NRSC political director Ward Baker came in with one last request. Races were tightening and some unexpected opportunities had emerged. Could the team quickly pull in $3 million? A few weeks after the fact, the team's senior staff laughed as they recalled Baker's request, even as they acknowledged it elicited groans of misery.
It was the last push of a long cycle—and they did it.
"In finance no one ever says, 'Great job, you can stop,'" Larrison said. "They always say, 'We need more.'"
Before it's here, it's on the Bloomberg Terminal.
LEARN MORE