Split Screen: Obama Calls for Calm as Violence Erupts in Ferguson
As the president quotes Michael Brown's father in asking for a nonviolent response to the grand jury's ruling, scattered violence erupts on the streets.
by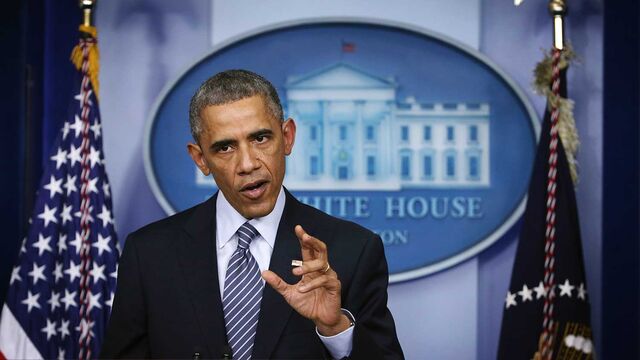 Shortly after St. Louis County Prosecuting Attorney Bob McCulloch's press conference Monday in which he announced that no charges would be filed against Ferguson police officer Darren Wilson in the death of black teenager Michael Brown, President Barack Obama appealed for calm. "There is never an excuse for violence," Obama said.
As the president spoke, scattered violence erupted on the streets of St. Louis suburb, and several networks went to split-screen coverage. Here are some of those images from televisions, and the president's message to the police and protesters in Ferguson.
"As [the Ferguson police] do their jobs in the coming days, they need to work with the community, not against the community, to distinguish the handful of people who may use the grand jury's decision as an excuse for violence. Distinguish them from the vast majority who just want their voices heard around legitimate issues in terms of how communities and law enforcement interact."  
"... But what is also true is that there are still problems and communities of color aren't just making these problems up. Separating that from this particular decision, there are issues in which the law too often feels as if it is being applied in a discriminatory fashion. I don't think that's the norm. I don't think that's true for the majority of communities or the vast majority of law enforcement officials.
"But these are real issues. And we have to lift them up and not deny them or try to tamp them down. What we need to do is understand them and figure out how do we make more progress. And that can be done."
"That won't be done by throwing bottles. That won't be done by smashing car windows. That won't be done by using this as an excuse to vandalize property. And it certainly won't be done by hurting anybody.
"So, to those in Ferguson, there are ways of channeling your concerns constructively, and there are ways of channeling your concerns destructively. Michael Brown's parents understand what it means to be constructive. The vast majority of peaceful protesters, they understand it as well. Those of you who are watching tonight understand that there's never an excuse for violence, particularly when there are a lot of people in good will out there who are willing to work on these issues. 
"On the other hand, those who are only interested in focusing on the violence and just want the problem to go away need to recognize that we do have work to do here and we shouldn't try to paper it over. Whenever we do that, the anger may momentarily subside, but over time, it builds up and America isn't everything that it could be.
"And I am confident that if we focus our attention on the problem and we look at what has happened in communities around the country effectively, then we can make progress not just in Ferguson but in a lot of other cities and communities around the country."
Before it's here, it's on the Bloomberg Terminal.
LEARN MORE