Obama Immigration Speech Interrupted by Protesters in Chicago
Roger Runningen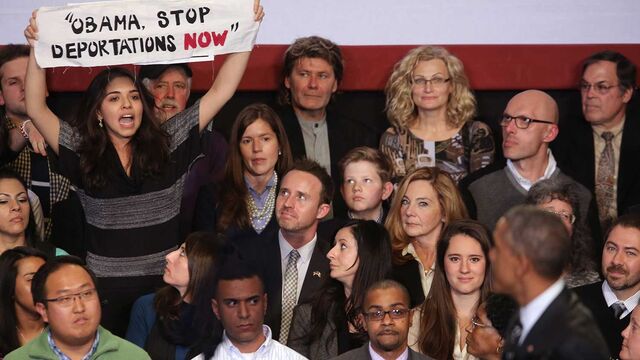 Immigration rights protesters disrupted President Barack Obama as he delivered a speech promoting his action to defer deportations for some 5 million undocumented workers in the U.S.
As Obama told a crowd at Chicago's Copernicus Community Center that his administration would focus on deporting criminals rather than families, a woman in the crowd began accusing him of breaking up families and chanting "Not one more. Stop deportations." She was joined by at least three other people, stopping Obama's speech.
"I heard you," Obama said, "I heard you."
The president said he went as far as he could go using executive authority last week to give some relief to undocumented immigrants with family ties in the U.S. Revamping the immigration system, he said, must be done by Congress.
"Though I understand why you might have yelled at me a month ago -- although I disagree with some of your characterizations -- it doesn't make much sense to yell at me right now when we're making changes," he said. Diverting from his speech, he rebutted their arguments and told them to "get the facts."
It was the second time since Obama began promoting his action on immigration that he was interrupted by hecklers who said he hasn't gone far enough and object to the record number of deportations, 2 million, since he took office.
At the same time, Obama re-ignited a long-simmering battle with Republicans over how to change immigration laws to deal with the estimated 11.4 million people in the U.S. illegally.
Regaining Control
Obama, backed by cheers from the crowd, regained control and told the protesters to "be respectful of everybody who's here."
The White House is enlisting the support of religious and community leaders to build support for his plan and to use their influence to coax undocumented immigrants out of the shadows and enroll in his program by spring to avoid deportation.
To emphasize that the issue is one that reaches beyond the Hispanic community, Obama met before his address with a group of community leaders with family roots in Poland, Latin America, Ireland, China and Nigeria.
Successful Immigrant
He was introduced by Billy Lawless, who immigrated to Chicago from Ireland in 1998 and has since opened several successful restaurants and pubs in the city.
"We really wanted to see if we could succeed in the United States and live the American dream," Lawless said. "This is what we immigrants do."
The White House also released a letter to Obama from Irish Prime Minister Enda Kenny thanking the president for his actions on immigration. Kenny recalled his conversations with Obama about the "tremendous human cost" imposed on undocumented immigrants who are unable to travel to their home countries.
Republicans accuse Obama of exceeding his constitutional authority. House Speaker John Boehner, an Ohio Republican, says that in bypassing Congress, Obama has damaged his ability to get things done.
The House Judiciary Committee plans a hearing on Dec. 2 to look into the constitutionality of Obama's actions, according to Representative Robert Goodlatte, a Virginia Republican and chairman of the panel.
Before it's here, it's on the Bloomberg Terminal.
LEARN MORE