Holder Faces Steep Climb in Ferguson Case, Ex-Prosecutors Say
Del Quentin Wilber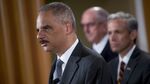 The Justice Department is unlikely to be able to file federal charges in the shooting death of a black teenager by a white police officer, according to former U.S. prosecutors, an outcome that is sure to frustrate civil-rights leaders and protesters.
The former prosecutors said the evidence of what occurred Aug. 9 in Ferguson, Missouri, is murky and the federal legal hurdles are too high to result in charges of civil-rights violations. A local grand jury wrestled with the same facts and declined to indict Ferguson police officer Darren Wilson in the shooting death of 18-year-old Michael Brown.
"If you have a hard time figuring out with any clarity what happened, it's extremely difficult to say there was a civil-rights violation," said Alex Busansky, a former prosecutor in the Justice Department's Civil Rights Division.
The county grand jury's decision, announced Nov. 24, set off demonstrations and looting in the St. Louis suburb where Brown was killed. A lawyer for the teenager's family called the justice system broken and civil-rights activists have vowed that protests will continue.
The Justice Department is conducting dual inquiries related to the shooting. On one track, prosecutors are looking at whether Wilson violated federal civil-rights laws when he killed Brown. The other is a review of training and operating procedures of the Ferguson police and whether the department has a pattern of violating citizens' rights.
'Thorough' Investigation
Attorney General Eric Holder, who has been the Obama administration's leading voice on race and civil-rights issues, briefed the president yesterday on the situation in Ferguson.
"The department's investigations will continue to be thorough, and they continue to be independent and they remain ongoing," Holder said yesterday at the Justice Department.
He said he was disappointed that some people in Ferguson resorted to violence. "It is clear that acts of violence threaten to drown out those who have legitimate voices, the legitimate demonstrators," he said.
Holder sought to lower expectations about building a federal case.
He said in a statement that "federal civil-rights law imposes a high legal bar in these types of cases." Holder also said the investigation had "entered a mature phase," though Justice Department officials declined to elaborate on when it might conclude.
Legal Burden
Former prosecutors said they agreed with Holder's assessment that the federal legal burden in such cases is higher than in state court and federal prosecutors face the same issues with the evidence that confronted local authorities.
Wilson testified that he was in fear of his life when he twice opened fire on Brown during a confrontation in his police vehicle and again seconds later on a Ferguson street.
Under existing law, police officers are permitted to use deadly force when they fear their lives, or the lives of others, are threatened. St. Louis County Chief Prosecutor Robert P. McCulloch told reporters Nov. 24 that physical evidence and witnesses generally supported Wilson's version of events. "It was not a crime," McCulloch told reporters.
Even if federal prosecutors thought that Wilson had acted improperly, they would face an additional hurdle in filing charges by having to prove that Wilson intentionally sought to violate Brown's constitutional rights when he opened fire. Second-guessing split-second decisions by police officers is not easy, Busansky and other former prosecutors said.
Tougher Standard
"The standard for a federal prosecutor to prove her case beyond a reasonable doubt is more difficult than the standard for a state prosecutor," said Seth Rosenthal, a former attorney in the Justice Department's Civil Rights Division.
Rosenthal said the types of civil-rights violations that most typically lead to federal prosecutions are more clear cut. For example, former prosecutors pointed to instances when police officers beat suspects already in handcuffs. In such a case, it's clear the officers know they are using too much force to subdue someone already in custody and not a threat.
The Justice Department is conducting a second inquiry into whether the Ferguson police violate citizens' civil rights. The Ferguson department has been criticized for not reflecting its community, and Holder said last month that "it's pretty clear that the need for wholesale change in that department is appropriate."
Ferguson is a municipality of about 21,000 people, 70 percent of whom are black. As of September, 50 of the city's 53 police officers were white.
Ferguson's Force
Such investigations delve into arrest and traffic stop statistics, how a particular department is organized and how its officers are trained. The Justice Department inquiry will also probe whether citizens' complaints are taken seriously, and how the force's disciplinary process works.
The Justice Department can sue in federal court to force change. More often, it enters into legal settlements that result in changes that are usually overseen by an independent monitor.
Justice officials last month announced such a settlement with the Albuquerque police force after a two-year inquiry. The agreement requires the department to address issues including how it reports the use of force by officers and how it handles internal investigations.
Rosenthal, now a partner at Venable LLP in Washington, said such settlements and consent decrees send the message to officers on the street that "they must engage in constitutional policing."
Before it's here, it's on the Bloomberg Terminal.
LEARN MORE