Coming Soon: Calorie Labels for Popcorn Tubs
Anna Edney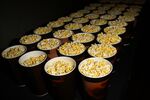 Americans are about to know just how guilty to feel about that large popcorn at the movie theater.
The U.S. Food and Drug Administration released menu labeling rules today for movie theaters, restaurants and grocery stores that will disclose how many calories are in meals and snacks. The rules complete a process started four years ago with the passage of the Patient Protection and Affordable Care Act.
The regulations are part of a U.S. effort to fight obesity, which affects more than one-third of American adults and 17 percent of children, according the the U.S. Centers for Disease Control and Prevention, and contributes to conditions such as diabetes and heart disease.
"It won't stop the obesity epidemic, but it may make it better," said Thomas Farley, the former New York City health commissioner who implemented menu labeling there in 2008. "They may serve as a damper on the arms race on portion sizes as chains are embarrassed to put 2,000-calorie counts on an entree."
The final regulations are a blow for theater chains -- which were exempted from FDA draft rules in 2011 that wouldn't have required calories counts for tubs of buttery popcorn and other snacks, and which now do. Grocery stores also sought an exemption and were able to win exceptions for fresh food at deli counters.
Chain Restaurants
Restaurant chains had already been preparing for the regulations because of similar requirements in New York and Philadelphia. New York City found that about 15 percent of people surveyed as they exited restaurants said they used the calorie counts.
The national version takes effect in a year and applies to restaurants chains with 20 or more locations. A labeling rule for vending machines will apply in two years to companies that operate 20 or more machines. Other nutrition information, such as fat, carbohydrates or sugars, must be available upon request.
"This initiative is really all about trying to provide consumers with information that they can use to make more informed food choices for themselves and their families," FDA Commissioner Margaret Hamburg said.
Restaurants will also have to post calorie counts for alcoholic beverages, which were exempt in the draft rule because they're primarily regulated by the U.S. Treasury Department's Alcohol and Tobacco Tax and Trade Bureau.
A large tub of movie theater popcorn contains about 1,000 calories, according to the Center for Science in the Public Interest. Movie theater chains, including Cinemark Holdings Inc., Regal Entertainment Group and AMC Entertainment Holdings Inc., made about 30 percent of revenue from concessions including candy, popcorn and soda, according to data compiled by Bloomberg.
Regal, Cinemark and AMC didn't respond to requests for comment.
Pizza Lobby
Grocery store owners and pizza chains were among the biggest critics of the rules, and won significant concessions.
Pizza franchises initially balked at determining calorie counts for 34 million combinations of pizza toppings, Jenny Fouracre, director of legislative affairs for Domino's Pizza Inc., said on behalf of the American Pizza Community, the Washington-based lobby for pizza sellers.
Under the final rules, pizza chains will be able to post a range of calories for their items on menu boards. They won't have to list the calorie count for every topping and will only have to post calorie counts online for delivery-only stores instead of on menu boards there.
The FDA received about 1,100 comments from interest groups, companies and citizens on the draft rules. "There was a lot of interest and a lot of input," Hamburg told reporters yesterday on a conference call. "We've tried to be flexible and realistic as we've put together these final rules."
Deli Counter
Grocery stores were concerned that calculating and posting calories would curtail offerings in their fresh prepared foods sections, because the offerings are constantly changing. Testing and labeling them all could have cost the industry as much as $1 billion, Rob Rosado, director of government relations with the Food Marketing Institute, an Arlington, Virginia-based lobby for grocery stores.
Also exempt are foods like sliced cheese, meat and other items from the deli stand that are meant to be shared or prepared. Salad and hot bars in grocery stores still must list calorie information.
Restaurants have generally accepted that labeling calories on their menus is necessary and that national standards are best, said Scott DeFife, executive vice president for policy and government affairs at the National Restaurant Association.
New York Precedent
"Consumers want the information, so we need to find a consistent way to convey them," DeFife said in an interview before the final rule was released.
Calorie counts will be available in more than 200,000 restaurants, the Washington-based restaurant association said in a statement.
"We believe that the Food and Drug Administration has positively addressed the areas of greatest concern with the proposed regulations and is providing the industry with the ability to implement the law in a way that will most benefit consumers," the association said.
The rules could lower how many calories Americans get on the plate when they order out. "Restaurants will have an incentive to create healthier dishes, smaller portions," said Marlene Schwartz, director of the Rudd Center for Food Policy and Obesity at Yale University in New Haven, Connecticut. "I believe that there is some evidence that that indeed has happened."
Large chain restaurants introduced new food and beverage options last year that, on average, contain 60 fewer calories than their traditional menu selections in 2012, according to research released in October from the Johns Hopkins Bloomberg School of Public Health in Baltimore.
McDonald's Corp., the world's biggest restaurant chain, began posting calorie counts on its menu boards in 2012 and said it would test healthier items, such as egg-white breakfast sandwiches 350-calorie sweet chili chicken wraps and more produce side items.
Before it's here, it's on the Bloomberg Terminal.
LEARN MORE