Ted Cruz and the Rest of Washington Are Already Done with Chuck Hagel
The outgoing defense secretary's biggest foe doesn't even mention him in a resignation statement.
by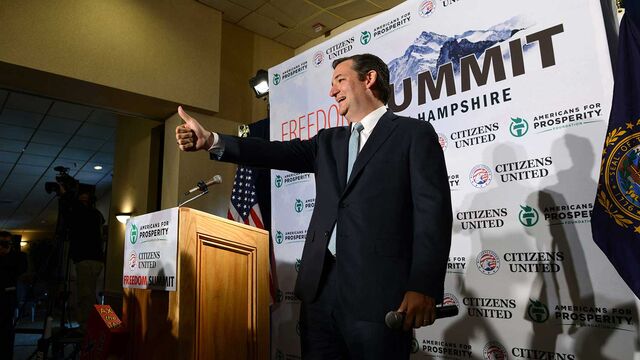 Outgoing Defense Secretary Chuck Hagel had no greater skeptic than Texas Senator Ted Cruz. In early 2013, before the glue had dried on his new Senate office sign, Cruz used Hagel's confirmation hearing to air the grievances of people who thought the nominee was an anti-Semite. He asked Hagel to prove, with financial disclosures, that he had not accepted money from North Korea. At one point he accused Hagel of blaming Israel for a "sickening slaughter," when Hagel had actually condemned a "sickening slaughter on both sides."
Today, Cruz responded to Hagel's resignation without mentioning his name. He only said that the Hagel departure represented "the ongoing damage caused by President Obama's misguided foreign policy of leading from behind," and that Hagel might be replaced by "Sen. Joe Lieberman, a member of the President's own party with deep experience and unshakable commitment to the security of the United States." (That was a made-for-Twitter tease, and it paid off.)
Senator John McCain had set a kind of tone for Republicans this morning, calling Hagel a good man who was let down by feckless Obamaians. Most Republicans, who opposed Hagel's nomination, put in a good word for the man as a way of knocking the administration.
"While I did not support Secretary Hagel's nomination to be the Secretary of Defense," said New Hampshire Senator Kelly Ayotte, "we should be clear that the responsibility for the national security failings of this administration rests primarily with the White House and not with Secretary Hagel."
"Whether a resignation or a firing of Secretary Hagel," said Georgia Senator Johnny Isakson, "this decision reflects the uncertainty of this administration as it relates to foreign policy in general, and in particular the destruction of ISIS."
"Secretary Hagel has served during a challenging time for our armed forces," said Mississippi Senator Roger Wicker. "I appreciate his dedication to our troops. Secretary Hagel's resignation does not change the shortcomings of the Administration's national security strategy. I am concerned it will be difficult for any Defense Secretary to be effective given the President's worldview."
All of that represented the fade of Hagel, the symbol. The surprisingly robust opposition to Hagel's 2013 nomination was predicated on the ideas that he had been wrong about Iraq, that he hated Israel, and that his stumbling confirmation hearing revealed that he was simply not bright. At the time, it was important to knock down Hagel's reputation as an iconoclast; it was tougher to go directly at the Obama administration's policies.
Now that Hagel's irrelevant, the old criticisms are a source of nostalgia, not argumentation. The coming confirmation battle over Hagel's replacement will occur during the latest, extended negotiation over Iran's nuclear program. It's left to people like Danielle Pletka, the senior vice president of Foreign and Defense Policy Studies at the American Enterprise Institute, to remember the case against Hagel specifically.
"Go back and watch the tape," said Pletka, "and ask yourself whether this was about the substance of management and consensus about Iraq/Syria or it was a formulaic sacrifice of someone who it turns out was the cipher everyone said he was. For me, that's the answer."
Before it's here, it's on the Bloomberg Terminal.
LEARN MORE