Pastors Confronting Race as Ferguson Grand Jury Meets
Toluse Olorunnipa, Elizabeth Campbell and Mark Niquette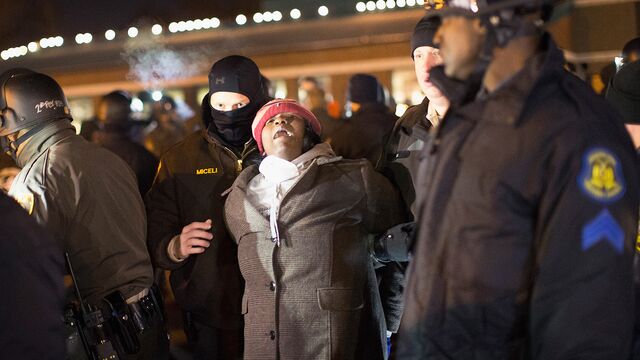 As St. Louis-area clergy urge a nonviolent response to a grand jury's decision about whether to charge a white police officer in the killing of an unarmed black teenager, they're re-evaluating their role in the struggle over race relations.
Religious leaders have become complacent in the decades since the civil-rights movement ended legal segregation, said Carl Smith Sr., 59, pastor at New Beginning Missionary Baptist in Woodson Terrace, Missouri. The August shooting of 18-year-old Michael Brown in Ferguson and the weeks of unrest that followed awakened people of the cloth, he said. A decision on charges that could come any day and the prospect of renewed violence have forced religious leaders to the forefront and, for some, into a period of introspection.
"We have stopped doing what we were supposed to do," Smith said in an interview after an interfaith service Nov. 22 in St. Louis. "We have stayed confined to our four walls, instead of coming outside of these four walls."
Churches and pastors have been a driving force in the civil-rights movement for decades, their place in the vanguard affirmed by the Rev. Martin Luther King Jr.'s 1963 letter from the Birmingham jail. His muscular defense of nonviolent civil disobedience to city clergymen who said his approach was too radical was written in his cell on scraps of newspaper and toilet tissue. In 2014, with legal segregation having given way to more nuanced fights over equality, the pastors of St. Louis are forging fresh roles for themselves, and confronting difficult choices anew.
Calendar Cooperates
St. Louis County Prosecuting Attorney Robert McCulloch is set to make an announcement later today regarding the grand jury, a person with knowledge of the matter said. The panel, which is meeting today, will break for the day at noon local time, said the person, who declined to be identified because the deliberations are secret.
More than 200 protesters marched through St. Louis last night, blocking intersections and shouting chants. Police helped redirect traffic and no arrests were made.
Protests are planned in the Ferguson area and in 100 cities in 37 states after the panel's decision, with President Barack Obama, U.S. Attorney General Eric Holder and Brown's father calling for peaceful demonstrations. Former New York Mayor Rudy Giuliani drew heated reaction on the Internet when he said yesterday on NBC's "Meet the Press" that the Ferguson shooting is an exception because "93 percent of blacks in America are killed by other blacks."
Occupying Force
Pastors preached for calm during services yesterday in the St. Louis area, including at Blessed Teresa of Calcutta Catholic Church in Ferguson, where the Gospel reading was from the Book of Matthew, chapter 25, verses 31-46. Jesus tells the righteous, "what you did not do for one of these least ones, you did not do for me."
"If the good shepherd walks with you today, how do you respond?" the pastor, Father Robert "Rosy" Rosebrough, 71, said before the service. He said the liturgical calendar put a moral choice before his congregation.
Residents of Ferguson, predominantly black, have said that the mainly white city government acted as an occupying force. Some pastors acknowledged frustration at not having done more to improve relations before Brown's killing brought the issue to the fore.
"The people of God have gotten lazy as hell," Carlton Lee, pastor of The Flood Christian Church, said in a fiery 45-minute sermon yesterday with Brown's father, Michael Sr., sitting at the front of the congregation.
Church Reawakens
The role of church in the civil-rights movement has changed since the 1960s, when black churches, and some white congregations, provided the organizational and spiritual force needed to confront an oppressive government. Today, many black pastors in the St. Louis area are in communication with law-enforcement officials rather than opposition, encouraging a non-confrontational approach.
In Ferguson, where the mayor, the police chief and five of six city council members are white, pastors are often seen as unofficial spokesmen within the black community.
Clergy need to do more to reach young people protesting -- especially because fewer millennials belong to congregations today, said Karen Anderson, a pastor at Ward Chapel African Methodist Episcopal Church in nearby Florissant.
Clarion Call
"The church did go to sleep for a while," said Anderson, 59, adding that her generation "dropped the ball" after the civil-rights movement. "The church is awakening to the role it can play in helping to bring the community together, helping to educate."
Yet some pastors have already heard the case as a clarion call.
"The Jesus I read about in the Gospel goes to the places where the people have the least amount of power and the places where people have a lot of power and abuse it," said Rebecca Ragland, rector at Episcopal Church of the Holy Communion in University City, who was arrested Nov. 19 during one of the nightly standoffs between police and protesters. "Right now, the symbol of that is Ferguson."
In many cases, though, the clergy have taken a back seat to young activists who have emerged as leaders of street protests, said DeRay McKesson, 29, who publishes a daily newsletter about events in Ferguson. By using social media and mobile technology, activists have organized themselves without a central figure, he said.
"Clergy members are just starting to understand how to plug in to a movement that is decentralized and led by young people," McKesson said.
'Human Problem'
While talking about Ferguson isn't easy, it must be done, said the Reverend Eric Stiller, an associate pastor at Central Presbyterian Church in Clayton, a predominantly white congregation.
"Ferguson is not just an African-American problem," Stiller said during his sermon yesterday. "It's a human problem. We all have a part to play in the brokenness, but we also all have a part to play in the solution."
Church member Howard Hall said he didn't really understand the pastor's pitch.
"We have laws," Hall, 75, said as he stood holding the church door and greeting people in the drizzle. "Whether you're black, white, green, or whatever, we have laws."
The sanctuary is less than a mile from the Buzz Westfall Justice Center, where the grand jury is meeting and where barricades have been set up. The church canceled yesterday's Sunday school classes because of the anticipated decision.
Safe Spaces
Several churches within the St. Louis area have offered their sanctuaries as safe spaces for protesters, agreeing to remain open around the clock and provide food and shelter during times of unrest. Police have agreed to avoid entering most places of worship, many of which are located near areas that protesters plan to hold demonstrations. One church, St. John's Episcopal in St. Louis, is officially recognized by the city as a safe house, according to St. Louis Mayor Francis Slay.
Eugene Gillis, pastor at the predominantly black Fire of God Ministries in St. Ann, said he has made contact with people who may be prone to violence. Even so, Gillis, a 56-year-old former sheriff's deputy, said unrest is inevitable because of anger and frustration in the streets.
"It's not right, but when you have people that feel like they have been vilified and not respected -- from the president on down -- and then you see young black men getting shot down, it's like a domino effect," he said.
Pastor Tommie Pierson at Greater St. Marks Church in St. Louis, a predominantly black church near Ferguson, has hosted press conferences, rallies and community meetings for supporters of Michael Brown. He said activism can't end when the demonstrations do.
"We have to change our habits and how we behave in a democracy," he said. "Real change comes at the ballot box; real change comes from running for office."
Before it's here, it's on the Bloomberg Terminal.
LEARN MORE