John McCain: Chuck Hagel 'Was Up to the Job'
The incoming Armed Services chairman blames Obama, not Hagel, for foreign policy problems.
by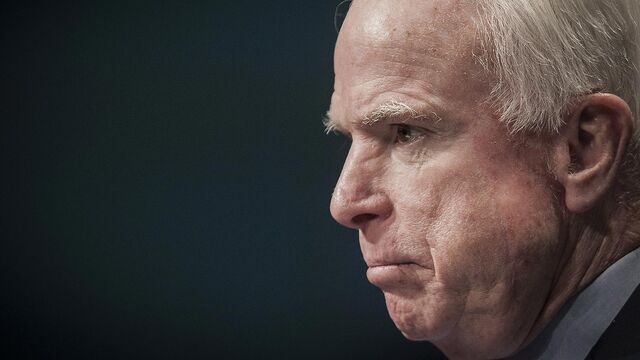 John McCain wasn't going to let the administration get away with its spin. Early Monday morning, before daylight in Arizona, Helene Cooper reported that Defense Secretary Chuck Hagel would be stepping down, and that he was pushed. In a morning interview with NewsTalk 550, McCain struck back at the idea that Hagel was incompetent, or that he was the problem with the administration. 
"I just talked to him," said McCain. "They're gonna say, well, it was time for a change. Well, let me tell you. He was in my office last week. He was very frustrated. We have no strategy." 
The incoming chairman of the Senate Armed Services Committee ticked off the crisis regions around the globe, from the ISIS-occupied sections of the Levant to China, and reiterated that Hagel was a good man who could not fix an Obama policy that was blundering and making the country weaker.
"Believe me," said McCain, "he was up to the job."
McCain's tone made it sound like he was defending the honor of a fellow Vietnam veteran against anonymous bureaucrats. Anyone who watched Hagel's confirmation hearings last January might be surprised to hear this. When Hagel was in his final term as a Nebraska senator, he vehemently opposed the Bush administration's Iraq strategy. He opposed McCain when the Arizonan argued, successfully, for a troop surge in Iraq. At the 2013 hearings, McCain lit into Hagel. "Were you correct or incorrect when he said the surge would be the most dangerous foreign policy blunder in this country since Vietnam?" asked McCain, as Hagel sputtered.
Now, McCain was separating Hagel from the Obama administration. You can see why. At the start of 2013, when Hagel was confirmed, Gallup could credibly run a story titled "Obama Rated Highest on Foreign Affairs, Lowest on Deficit." Voters were most bullish on Obama when it came to national defense (a 53 percent approval rating) and foreign affairs (46 percent, just barely under water). That matched up neatly with the 2012 exit polls; the very small number of voters who cited "foreign policy" as their top concern went for Obama over Mitt Romney in a 56-33 landslide.
In 2013 and 2014, public approval of the Obama administration's foreign policy tumbled and never recovered. In the NBC News/Wall Street Journal poll it sunk under 50 percent in August 2013, and never recovered; it's currently at 38 percent. A Pew Research Center poll after the 2014 midterms found, by a 5-point margin, that voters trusted Republicans in Congress would have a "better approach" to foreign policy than Obama. 
So why would those Republicans let Obama turn Chuck Hagel into a fall guy?
Before it's here, it's on the Bloomberg Terminal.
LEARN MORE