Hillary Clinton's Army Has Way Too Many Chicken Littles
Clinton's supporters talk down polling numbers that show her with a strong lead in Democratic primaries.
by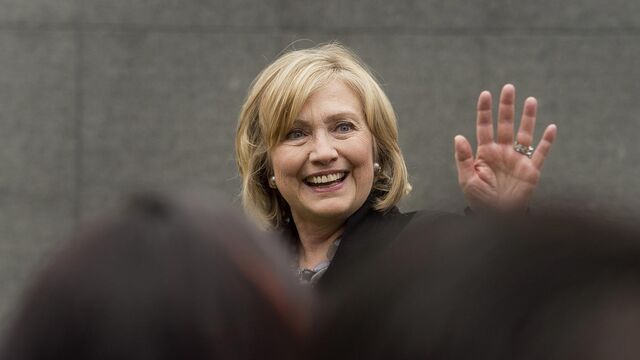 The restless, roving hordes of Hillary Clinton 2016 supporters met in New York City this past weekend, and one striking revelation from the coverage is how worried Clintonworld is about blowing the primary again. While the Bloomberg Politics/Saint Anselm poll was finding a historic 49-point lead for Clinton in New Hampshire,  Terry Shumaker, a co-chair of Clinton's 2008 campaign there, was speculating about how the lead could wane.
"Taking New Hampshire for granted is very dangerous," Shumaker told CNN's Dan Merica. "Last time I believe Hillary Clinton had an almost 30-point lead in the polls in our state in the summer and that lead melted like an ice sculpture on the mall in Washington in July."
Here, the word "almost" is asked to do some World's Strongest Man dead-lifting. Clinton never enjoyed a 30-point lead in New Hampshire polling. At this point in the 2008 cycle—i.e., December 2006—the few pollsters measuring the Granite State found Clinton deadlocked with Barack Obama. The closest Clinton came to an "almost 30-point lead" was in September 2007, when a CNN/WMUR poll put her 23 points over Obama and the field. You can't even round that to 30. 
It gets worse for the (minority of) Democrats who want to replace Clinton. In 2008, the last-minute Barack Obama wave that almost engulfed New Hampshire started when the Illinois senator won the Iowa caucuses. Clinton's advantage in Iowa is currently around 48 points, in the RealClearPolitics average. She's stronger there, relative to her 2008 showing, than she is in New Hampshire.
What hope is there for the would-be upsetters? Well: On Friday, the decade-old Democratic group Democracy for America released the results of a "Presidential Pulse Poll" on 2016. DFA, built from the girders of Howard Dean's 2004 campaign, opened up a web survey to its membership, sending several emails that directed them to the website where they could vote and maybe stick around to donate money. They got three emails, making "the case" for various candidates. From the one promoting Hillary Clinton:
Of course, when it comes to the income inequality crisis -- the most significant issue facing Americans today -- it's easy to criticize Hillary Clinton for her close relationship with Wall Street. As the Senator from New York, she often came down on the side of corporate America, calling NAFTA "good for New York State and America" and advocating for the job-killing Trans-Pacific Partnership trade deal while in the Obama Administration. 

But, let's be clear, her track record isn't that simple. She also has a long history of fighting for working families and the middle class. Her first job out of law school was at the Children's Defense Fund and her work on rural health care as the first lady of Arkansas helped get thousands of kids and working parents coverage they could afford. 
From the one promoting Elizabeth Warren:
If she ran for president, Elizabeth Warren could build a case for why government is a good thing that actually resonates with people. That's something Democrats need to talk about, and she does it better than anyone. 

Because of the life she's lived, Warren can talk frankly and personally about issues many other Democrats can't -- things like class and misfortune and the role government and community have in making each individual's success possible. 

Elizabeth Warren already has most of the things a successful national candidate needs: press interest, loyal supporters, and a donor list a mile long. 
Of 1 million total DFA members, 164,733 of them voted. The result of this self-selected and unscientific sample, with no focus on any particular primary state: Elizabeth Warren at 42 percent, Bernie Sanders at 24 percent, and Hillary Clinton at just 23 percent. The news that Warren had beaten Clinton in a poll conducted via emails that promoted Warren over Clinton did not make it into most write-ups of the results. From the press to the campaigns, no one really wants to believe that Clinton is as strong a primary candidate as the polls insist she is.
Before it's here, it's on the Bloomberg Terminal.
LEARN MORE