Ferguson Grand Jury Reaches Decision in Teen's Shooting
Tim Bross and Andrew Harris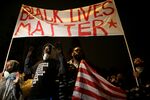 A Missouri grand jury has reached a decision in its deliberations over whether to indict a white police officer who shot and killed an unarmed black teenager, raising prospects of nationwide protests especially if no indictment is issued.
The grand jury's finding will be announced at 8 p.m. local time, Ed Magee, a spokesman for Prosecuting Attorney Robert McCulloch, said in an e-mailed statement without elaborating.
The decision is being awaited by civil rights groups, with protests planned for Ferguson, the St. Louis-metropolitan area and in at least 100 U.S. cities in 37 states. President Barack Obama, Attorney General Eric Holder and Brown's father have all called for such demonstrators to be peaceful.
Officer Darren Wilson, 28, shot Michael Brown, 18, at least six times and killed him in a street encounter in Ferguson on Aug. 9. The grand jury began hearing evidence Aug. 20 after days of protests triggered a police response that was criticized as militaristic and rekindled a national dialogue on race and American law enforcement.
Some eyewitnesses said Brown was shot while raising his hands in surrender. Police said he attacked Wilson while the officer was in his patrol car.
The federal government is examining the Ferguson police department, its training and operating procedures. Holder said the investigation was prompted by conversations he had with residents who expressed a "deep mistrust" of Ferguson police, who are mostly white in a majority black city.
Concerns Expressed
"People consistently expressed concerns stemming from specific alleged incidents, from general policing practices, and from the lack of diversity on Ferguson's police force," the attorney general said at a press conference in September.
McCulloch won't bring charges himself or submit the case to another grand jury unless additional relevant evidence arises, Magee said on Nov. 10.
The Brown shooting touched off days of racially charged protests, that included looting and police tactics to quell the unrest, including deployment of a BearCat armored vehicle and aiming assault rifles at civilians.
Rallies Held
Rallies were held last month under the banner "Ferguson October," and spread to the city of St. Louis, 8 miles (13 kilometers) to the southeast.
Organizers of last month's protests in the city where Brown was killed have issued a post-decision rally "call to action" on the website Ferguson Action.
Missouri Governor Jay Nixon, a Democrat, said at a press conference that he doesn't know what the grand jury's decision is. He said he hopes "people on all sides show tolerance mutual respect and restraint."
Ferguson residents braced for a recurrence of violent protests with businesses shutting down and windows being boarded up.
"You've got a lot of business owners that are concerned about the safety of their businesses and I can understand that," John Gaskin III, a community activist, said. "Some are boarded-up. Some are planning to stay overnight in their business."
Some businesses in downtown Clayton, the location of the court house where the grand jury met, including Starbucks, were closing early ahead of the grand jury announcement, and at least four businesses along Central Avenue, just blocks from the Buzz Westfall Justice Center, were boarded up.
Boarding Up
Todd Stimson, owner of the Potbelly Sandwich Shop, less than a five-minute walk from the courthouse, already had framework set up to cover his storefront, and planned to fully board up tonight.
"Mainly it's just precautionary," Stimson, 43, said in an interview. "I don't think there's going to be any sort of drama like in Ferguson."
Ashley Yates with Millennial Activists United said protesters were ready, no matter what the decision is.
"If it's a non-indictment, we're out," Yates said while walking in Clayton. "If it's an indictment, we're out. This is not just about Mike Brown. His death was the catalyst."
City of St. Louis Mayor Francis Slay said on Nov. 21 that police have had "significant, meaningful discussions," with protest organizers about balancing the need to protect the public with respecting the constitutional rights of those who assemble, march and speak out.
Civil Disobedience
If protesters are nonviolent, police won't be aggressive, Slay said. If people engage in civil disobedience, they will, in most cases, be given a chance to obey the law before being arrested.
Slay, speaking to reporters with Nixon, said some people are going to be angry and frustrated. "Turning violent or damaging property will not be tolerated," he said.
Suppressing an eruption could be more difficult if Wilson isn't charged, Tory Russell, co-founder of the Hands Up United protest group said then.
Ferguson is a municipality of about 21,000 people, 70 percent of whom are black. As of September, 50 of the city's 53 police officers were white.
As protests and arrests there continued into this month, On Nov. 11, Missouri Governor Jay Nixon said hundreds of local and state police had received special training to respond to possible civil unrest after the grand jury decision and that National Guard troops could be called in if violence overwhelms those first-responders.
Seven of the grand jurors were male, five were female and they varied in age and socioeconomic status, as well as where they live in St. Louis County. At least nine of them would have to agree to a charge in order to indict.
"The purpose of the criminal justice system is to search for justice, but before one can determine what is just, one must first determine what is true," McCulloch said in an Oct. 31 statement.
Any witness with "relevant evidence" was summoned to give their sworn testimony to the panel, the prosecutor said.
Before it's here, it's on the Bloomberg Terminal.
LEARN MORE