Cruz Explains His Walkout to a Cheering Crowd
The senator tells a pro-Israel crowd how he took a stand by walking off a stage.
Annie Linskey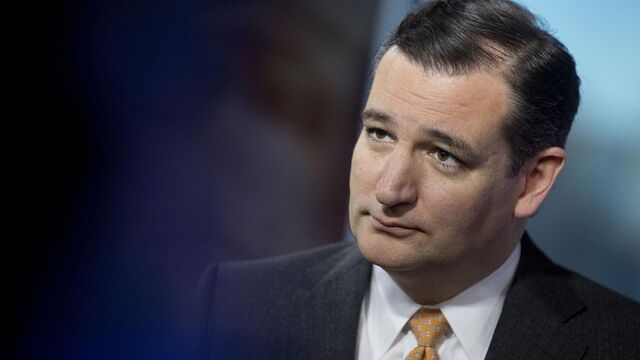 Texas Senator Ted Cruz electrified a pro-Israel crowd Sunday night with a simple story that involved Hezbollah.
The story goes back to September, when Cruz keynoted the In Defense of Christians summit in Washington and walked off the stage mid-speech after his defense of Israel prompted boos and heckling. At the time, some suggested that Cruz may have purposely provoked the incident.
Whatever the motive, it worked. More than 1,000  at the Zionist Organization of America awards dinner in Manhattan swooned Sunday night as Cruz told the back story of his walkout.  Front and center were casino billionaire Sheldon Adelson and his wife, Miriam, who jointly gave nearly $100 million to Republican politicians in 2012.
The day before his September speech, Cruz said, he learned via a news story that the IDC summit was funded by Gilbert Chagoury, a Lebanese-Nigerian businessman who the story said has financially backed a Lebanese Christian politician who is an ally of Hezbollah.
The headline: "Cruz Headlines Conference Featuring Hezbollah Supporters."
Cruz said his staff canceled his schedule for the day and spent "four or five hours" debating whether to skip the event. Ultimately, "I decided that cancelling it was the wrong thing to do," Cruz told the audience, saying that he wanted the plight of persecuted Christians to get attention and that he was loathe to cede the event to "extremist" elements.

"I resolved that if I was going to go, if I was going to stand on that stage with defenders of Hezbollah, there was going to be not one whit of ambiguity of where I stand," he told the New York crowd, some of whom leaned forward in their seats as he spoke. He said he spoke about how both Christians and Jews suffer in the Middle East, adding that "murder is murder and hate is hate." 
When boos began, Cruz recalled,  he changed his speech to focus on Israel. "Those who hate Israel hate America," he recalled telling the Washington audience. "I said those who hate Jews hate Christians."

At this point someone in the New York audience yelled "Cruz 2016."

Cruz explained how the more he defended Israel, the louder the boos became. "That's when I had no choice but to say 'If you will not stand with Israel, and you will not stand with the Jews, than I will not stand with you,' " Cruz recalled Sunday.

The New York crowd stood and cheered. Some chanted "Run, Ted, Run." Among those standing and clapping was Adelson. 
Before it's here, it's on the Bloomberg Terminal.
LEARN MORE