Obama Brushes Dirt off Shoulder After Midterm Losses
Since the Nov. 4 drubbing suffered by his party, the president has come out swinging.
by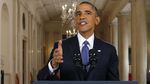 While President Obama suffered a political drubbing in the midterm elections—with Democrats losing control of the Senate and giving up more seats in the House of Representatives—you'd never know it from the way he's acted since. 
On Friday, Dan Pfeiffer, who holds the faintly oxymoronic job title Assistant to the President and Senior Advisor, employed something of a gleeful mood to reporters at a breakfast roundtable hosted by the Christian Science Monitor. "We feel very good about how the last two and a half weeks have gone here," he said, Buzzfeed reported. "Typically when you have a change in power in Congress, the new congressional majority dominates the conversation and drives the discussion. Since essentially right after the election it's been the president who has been driving the discussion in this town, moving forward aggressively on core priorities."
Whether you agree Pfeiffer's assessment, the days following the midterm blow-out have yielded plenty of headlines for the Obama White House. Consider the president's busy agenda since Nov. 4: Obama went to Asia, hung out with Jimbelug the koala, and achieved a historic climate change deal with China. He spoke for the cause of democracy in Burma, and opened a Peace Corps program there. The president reached an agreement with India on trade, appointed a few people to key administration posts, and took a forceful stand on net neutrality. A White House report released on Nov. 12 touted the "tremendous progress" women and girls of color have made under his administration. And last week Obama flexed his muscle on immigration.
Back on Nov. 5, while reflecting on his party's sweeping midterm losses, Obama quipped, "It doesn't make me mopey. It energizes me." Apparently, the president meant what he said, and is intent on showing the country that there's still time to define his legacy. 
Pfeiffer said Friday that Obama will be undertaking a "very aggressive sales job" on his executive order on immigration. Winter's falling, and Obama's rekindling the flame with former supporters who grew disenchanted but could be drawn back by the fire of these progressive measures. What's unmistakable, is the new sense of swagger, as with the much quoted line from his immigration speech: "To those members of Congress who question my authority to make our immigration system work better, or question the wisdom of me acting where Congress has failed, I have one answer: Pass a bill." The president is so enlivened, in fact, that he's even opening a new front against conservatives by releasing more detainees from Guantanamo Bay.
Some of his supporters may be wondering, Where has this forceful and progressive Obama been for the past six years? The answer might have something to do with the fact that the president will never be up for election again, nor will he have to try to re-elect members of Congress to work with his administration. 
For Republican critics, however, Obama's actions of late have provided fresh evidence that his presidency is out of control. 
"What President Obama is doing, is he is defying the law, he's defying the Constitution.  You know, the President quite right said, just a few weeks ago, his policies were on the ballot all over the country," Senator Ted Cruz told Fox News last week. "This last election was a referendum on amnesty, and the American people overwhelmingly rose up and said 'No, we don't want lawless amnesty.'  I'm sorry to say President Obama's reaction is defiant, and it is angry with the American people."
Before it's here, it's on the Bloomberg Terminal.
LEARN MORE