Ben Carson Shares the Intimate Details of His Life with Iowa Evangelicals
The retired neurosurgeon got up close and personal with conservative voters.
by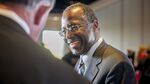 In a 54-minute speech to evangelical conservatives in Iowa on Saturday night, Ben Carson sought to introduce virtually every aspect of his compelling life story to a group of voters essential to his prospective 2016 Republican presidential bid.
That even included an episode where he said a woman in Florida accused him in a paternity case of fathering a child. He said he aggressively fought off what he described as an attempt to extort money because he knew the truth.
"I knew something that they didn't know," Carson said. "I knew the only woman I had ever slept with in my whole life was my wife. I didn't have to say, 'Was there some conference in Des Moines or something?'"
The retired Johns Hopkins neurosurgeon was warmly received by about 900 people gathered in Des Moines for a "Celebrate the Family" fundraising dinner benefiting the Family Leader, an Iowa-based coalition that seeks "Christ-like leadership" and also opposes abortion rights and gay marriage. Some carried signs or wore stickers that read "Run, Ben, Run!"
Carson, 63, only made subtle references to his potential bid in the state that will start the nomination voting in early 2016. He referenced his emergence onto the national political stage when he offered a sharp critique in 2013 of the Affordable Care Act at the National Prayer Breakfast in Washington, in front of President Barack Obama.
"Things changed after the prayer breakfast," he said of those calling on him to run. "I actually thought it was all going to die down, but instead of dying down it has just continued to build."
In his professional life, Carson said he saw how people near death were willing to give anything to keep life.
"That's the reason I rail so strongly against the so-called Affordable Care Act because I think the most important thing you have should be in your hands and not some faceless bureaucrat," he said to strong applause. "If in fact they can control the most important thing you have, believe me, it's not long after that before they control everything."
Carson, who affirmed his support of traditional marriage and opposition to abortion, also made the case for some regulation in American governance, even reflecting a somewhat populist tone when it comes to the financial sector and rules that were put in place after the 1929 stock market crash.
"Somehow in the 1990s, we started thinking, we don't need all these regulations," he said. "It took about 20 years for it to catch up with us, but it will always catch up with you because greed is part of human nature and you have to control those things." In general, however, he said the federal government has "gone way overboard with the regulations."
Reflecting on how he rose out of poverty in Detroit, Carson called for a greater emphasis on education. "Education is the great divide," he said. "If you get a good education in this country, you can chart your own future, and we need to really make that an important factor once again in our nation."
In Iowa, Carson sits behind only 2012 Republican nominee Mitt Romney, who has said he doesn't plan to make a third bid for the White House, as the first choice of likely Republican caucus-goers, according to a Bloomberg Politics/Des Moines Register Iowa Poll taken in October. He was picked by 11 percent, one point ahead of Senator Rand Paul of Kentucky.
"He's very impressive," said Susan Amborn, an Iowa Republican who attended the dinner and purchased Carson's book, "One Nation," at the event. "He seems like a man of good integrity and Godly and family focused moral values."
Bob Vander Plaats, president of the Family Leader, said in his introduction of Carson that he would be "very good" for the 2016 race and that he "hopes he does run."
In an interview ahead of the speech, Carson said he's getting closer to making a decision about running and is spending time studying foreign policy and building a network of "people in critical positions" waiting to launch a campaign, with a final decision "in the spring."
He declined to provide specifics about building a real infrastructure that could support a national campaign, except to say that the network includes fundraisers "coast to coast who are ready the minute I declare to bring in funds."
"Many people will be quite shocked" to see how he's sharpening up on foreign policy in particular "because they think doctors only know medicine," he added.
He discussed issues ranging from the immigration debate dominating Washington to Obama's legacy as the country's first black president during the 30-minute interview inside a Holiday Inn suite.
Regarding Obama's announcement last week of plans to take executive action to relieve 4 million to 5 million undocumented immigrants of the threat of deportation, Carson said the immigrants should lose access to services such as "free" education, medical care and housing subsidies until they become citizens.
"You have to reverse the polarity of the magnet that is attracting people here," he said "All the goodies, you just turn those off. Then, you seal the border."
Carson said government aid should require proof of citizenship and called for a "guest worker program" similar to Canada's, with certain tax requirements.
"In terms of work, you have to be realistic enough to recognize that certain parts of our economy would probably collapse without a lot of people who perhaps are not here legally," he said. "We need to create a mechanism for them to be here legally. That's not the same as giving them citizenship and voting rights."
To obtain guest-worker status, Carson said workers from outside the U.S. should be required to apply for such status from outside the country.
"In other words, you don't get a free pass because you are here already," he said. "It really is quite unfair when you provide advantages to people who don't play by the rules."
Asked whether he supported or opposed Obama's immigration plan, Carson hedged a bit and said he doesn't "support the way that it is being done" because the president should have been more deferential to Congress. During his speech, said the plans grants "amnesty" to the undocumented.
On another governance issue, spending, Carson offered a somewhat softer statement than he has in the past about the need for a 10 percent across-the-board cut in federal spending, including defense and medical research.
"I think it needs to be cut proportionately, whether 10 percent is the correct number, I'm not certain," he said, adding that he would like to see the size of the federal workforce reduced through attrition over the course of four or five years.
"I defy anybody to show me any government program that is run without fat," including medical research, he said. "There is nothing that is run efficiently, nothing."
If Carson were to find traction in the presidential campaign, it would be a rarity. In recent history, the United States has only once elected someone with no electoral experience: Dwight D. Eisenhower.
"Perhaps that's just the experience you don't need if you want to get things back to the point of the founding fathers," Carson said, adding that he has "real-world experience" in health care and business.
His party has done a "poor job" of trying to win over black voters, Carson said, though he applauded efforts to change that.
"A lot of black people actually are conservatives and actually do identify with more conservative values, but what has happened that it has become so unpopular to be identified as such that people would prefer just to go along to get along with everybody else," he said. "The Republican Party, in particular, has to come out with real programs that show that they are willing to invest in their fellow citizens with the return being moving people out of dependency."
Carson said the party needs to "talk about the difference between enabling someone to become independent and enabling someone to become dependent" and "the facts," such as the high rate of African American babies born to unmarried parents.
If he runs and were to win his party's nomination, Carson said, he would "hope" to draw more black voters than typical for a Republican. In the 2014 midterms, Democrats won 89 percent of the black vote nationally.
"I do get a chuckle sometimes when I read various comments and people say there will never be another black president because of Obama," he said, noting the president's low approval ratings. "And I say, well, Obama's half white. Does that mean there will never be another white one, either?"
Before it's here, it's on the Bloomberg Terminal.
LEARN MORE