Police Agree to Many of Protesters' Rules, St. Louis Mayor Says
Elizabeth Campbell, Toluse Olorunnipa and Mark Niquette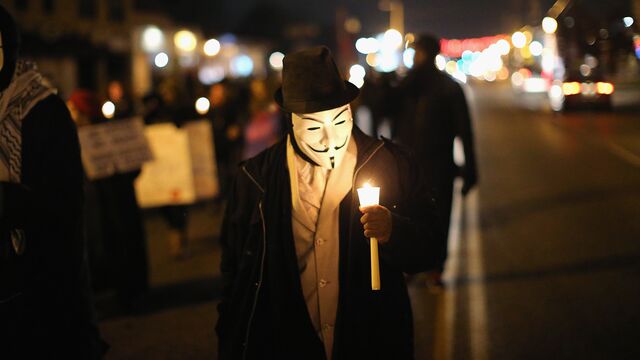 As a Missouri grand jury decides whether to indict a white police officer who killed an unarmed black teenager, police are touting positive talks with protesters, schools are closing and President Barack Obama is warning against violence.
Police have had "real, significant, meaningful discussions and conversations," St. Louis Mayor Francis Slay said yesterday.
"This is our city, this is our region and we live here together," Slay said during a press conference in Clayton, Missouri. "We instructed our police officers to protect the protesters' constitutional rights."
Police have been readying for protests across the nation after the jury decides whether to charge Darren Wilson in the Aug. 9 killing of 18-year-old Michael Brown in Ferguson. Demonstrations are planned in 100 cities in 37 states.
Obama, who spoke in an interview that will air tomorrow on ABC's "This Week," urged people in Ferguson to "keep protests peaceful."
"Using any event as an excuse for violence is contrary to the rule of law and contrary to who we are" as a nation, Obama said in a released clip.
The 2,600-student Jennings School District, near Ferguson, will be closed Nov. 24 and Nov. 25 in advance of a previously scheduled break for Thanksgiving, Superintendent Tiffany Anderson said.
"I anticipate that our community is going to be peaceful, but if unrest happens and it's not, we know we're not worrying about closing schools on Sunday night," Anderson said.
Street Workers
In St. Louis yesterday, members of New York activist Al Sharpton's National Action Network group promised to send dozens of "justice disciples" into the streets to maintain order, an attorney for Brown's family said.
"We will make an attempt to maintain a vigilant presence during any and all pro-democracy demonstrations," said Anthony Gray. "Let's just face it: The city is really in a panic."
Eddie Hassan, director of the Justice Disciples group, said more than 50 people have signed up to maintain peace among protesters and keep law enforcement accountable for its actions.
"We're looking for the police departments, the National Guard, the Homeland Security to be equally committed to peaceful demonstrations, and peaceful expressions from our community," he said.
Pre-Storm Calm
Yesterday evening, more than 100 people gathered at Harris-Stowe State University at a "peace rally" organized by the Young Citizens Council of St. Louis, a group created after Brown's death. They heard speeches and musical performances.
"There's a lot of ambiguity about what's going to happen next," Charli Cooksey, a 27-year-old co-founder, said in an interview. "And we want to provide young people with a safe place to convene before the unknown happens."
At the Clayton news conference earlier, St. Louis County Executive Charlie A. Dooley said that authorities including the city and county police chiefs met with protest leaders to discuss demonstrators' 19 proposed "rules of engagement," meant to head off violent confrontations like those that wracked the area after Brown's death.
Law enforcement officials agreed to most either because they made sense or police were already doing them, Slay said. Police didn't agree to demands that would have limited officers' ability to protect people and property, Slay said.
If protesters are nonviolent, police won't be aggressive, Slay said. If people commit civil disobedience, they will, in most cases, get a chance to obey the law before arrest, he said.
Tory Russell, co-founder of the Hands Up United protest group, said suppressing an eruption could be difficult if the grand jury doesn't indict Wilson.
"People will pour out into the streets," he said. "You're going to have a lot of grieving, hurt people ready to express themselves."
Before it's here, it's on the Bloomberg Terminal.
LEARN MORE