Why Obama's Executive Order Doesn't Give Immigrants Obamacare Coverage
What's more controversial than amnesty? Amnesty with health insurance.
by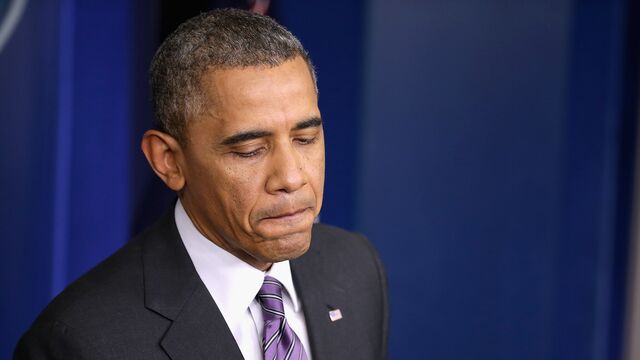 From the very beginning, the Affordable Care Act's political viability has depended on explicit statements that undocumented immigrants wouldn't be covered.  On Sept. 9, 2009, while addressing a joint session of Congress, President Obama promised that his health care proposals "would not apply to those who are here illegally," prompting the famous "You lie!" outburst from Representative Joe Wilson, the South Carolina Republican.
Five years later, it's still an issue–and Obama specified on Thursday that his immigration order protecting millions from deportation still would not allow them to receive health care subsidies.  (The one exception to this has been an emergency Medicaid program that predates Obamacare.) 
Immigrant advocacy groups argue that if the order is aimed at helping people integrate into society, then health care should be part of that. But as the last several years have shown, Obamacare and immigration reform remain two of the most controversial topics of the Obama era.
The GOP has tried to link the failure to pass an immigration bill to Obamacare.  Talks in the House broke down last year when Republicans insisted that newly legalized workers not become eligible for government-backed health care for 15 years, as they worked toward citizenship. 
Since then, the thought of undocumented immigrants—or even legal immigrants—receiving subsidized health care has continued to spark outrage.  Here are examples.
More immigrants on Medicaid
The Center for Immigration Studies, a "low-immigration" advocacy group that lobbied against the 2013 comprehensive immigration bill, published a study last week reporting that 42 percent of the growth in Medicaid in the last two years consists of immigrants and their U.S.-born children. The study notes this is "largely among those legally in the country," which makes sense, given that undocumented immigrants don't qualify for Medicaid. 
The story was picked up by right-leaning sites like the Washington Examiner, Washington Times, and National Review. American Thinker argued that Joe Wilson must feel "vindicated," while Breitbart complained that "people who weren't even born in America are taking significant advantage of one of Obamacare's single-most expensive benefits, the expansion of Medicaid." 
The 42 percent statistic sounds surprising, until you rephrase it: Immigrants and their U.S.-born children went from 23.7 percent of all Medicaid enrollments in 2011 to … 24.7 percent in 2013, an increase of a single percentage point, based on CIS' data. Based on the same data, 87.9 percent of Medicaid recipients were born in the U.S.
'Bending over backwards' for immigrants 
Last week Department of Health and Human Services Secretary Sylvia Mathews Burwell noted that children brought into the country illegally as children—DREAMers—don't qualify for coverage. "And this is an issue that I think is more than a health care issue — it is an immigration issue," Burwell said during a Google Hangout. "And I think everyone probably knows that this administration feels incredibly strongly about the fact that we need to fix that."
Her remarks prompted Jim Geraghty at the National Review to write that "Wilson wasn't wrong. He was prescient."
The idea that the administration is discreetly but purposefully shuffling undocumented immigrants into Obamacare is common. Conservative commenter Michelle Malkin argued in March that activists "see America as the medical welcome mat to the world."
Senator David Vitter, a Louisiana Republican, argued in September that the administration had turned a blind eye to faked documents. "The Obama administration is bending over backwards to give Obamacare to illegal immigrants but won't protect hardworking American citizens who are losing their health care coverage," Vitter told the Washington Times. "Enough is enough, and they need to provide answers to why they think illegal immigrants should be eligible for Obamacare." 
As Vitter spoke, the administration was in the process of verifying the immigration status of thousands of enrollees. According to HHS, 112,000 individuals lost their Obamacare coverage after failing to verify their immigration status by Sept. 30. Consumers were given six months and several warnings, which reduced the number of discrepancies from nearly 1 million to just over 100,000.
Before it's here, it's on the Bloomberg Terminal.
LEARN MORE